Convicted and discharged for driving offence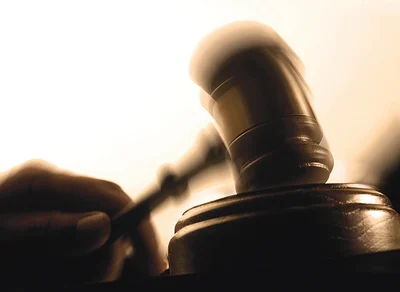 An 81-year-old man who decided to drive his son's car after his licence had expired was convicted and discharged for driving while forbidden.
John Hector McIntosh appeared before Community Magistrate Sally O'Brien in the Ashburton District Court on Thursday.
The Leeston man, who lives alone, pleaded guilty to a charge of driving while forbidden on October 13.
Duty lawyer Gretchen Hart said McIntosh's licence had expired in 2022 and had not been renewed. He lived rurally and decided to drive his son's car, which had been stored at his place.
She said there had been a significant family discussion and it might not be practical for him to get a licence. The son's vehicle had been removed and the family would find an alternative way for him to travel around, she said.
McIntosh was convicted and discharged.
Man avoids criminal record
A young man who admitted two driving charges earlier this year has escaped without a conviction after meeting the requirements for diversion.
Salatielu Iakopo had earlier admitted charges of drink driving and driving while suspended. However, he was discharged without conviction after obtaining his full licence and completing a defensive driving course.
O'Brien said she was satisfied that the consequences of a conviction would be out of proportion.
"At 18 you would have two criminal convictions - and as someone just starting out on life a criminal record can make It very difficult.
"I am satisfied it is appropriate not to impose convictions. I don't want to see you back in court again."
First drink driving charge
A young Fairton woman was embarrassed to be in court on her first drink driving charge.
Jessica Anne Wilson, 18, blew 564 micrograms of alcohol per litre of breath in a breath test on October 4 when she was stopped by police on Fairfield Avenue.
Duty lawyer Tiffany McRae said Wilson was driving home from the Hotel Ashburton and accepted she should not have been driving.
"She's very embarrassed to be before the court," McRae said.
O'Brien said Wilson was stopped by police after they received a complaint about her driving.
"You're over double the adult infringement level. You shouldn't have had any alcohol in your system at all," the magistrate said.
Wilson was disqualified from driving for six months and given a $500 fine.
Disqualified, fined
A decision to have a few drinks when picking up her friend ended in a drink driving conviction for a Netherby woman.
Krystal Rose Hayley Pointon, 34, blew 541mcg on a breath test on Acton Road in Rakaia on October 28.
Duty lawyer, Paul Norcross said Pointon was at home "minding her own business" when a friend called her to give her a lift.
She made a foolish decision to have a beer before driving home.
Pointon was disqualified from driving for six months and fined $490 plus $130 in court costs.
Guilty plea
Scott James Dolamore, 26, pleaded guilty to a charge of drink driving.
The Allenton man blew 571mcg when stopped on East Street on September 15.
He will appear for sentencing on December 14.
A few drinks
A father who decided to take his son to the park after having a few drinks at a work function ended up with a drink driving conviction.
Rakaia man Jeremy Dean Marshall, 41, blew 664mcg in a breath test after he was stopped by police on West Street on November 11.
Duty lawyer Gretchen Hart said Marshall had stayed out of trouble for 20 years. He was at a work function and made an "error of judgement" in deciding to drive.
Hart said it was a hot day and Marshall had not had lunch.
O'Brien said police had been alerted by someone who had seen Marshall drinking nearby.
The magistrate said Marshall's breath-alcohol level was high.
"You made a very significant error - and decided to take your son to the park."
Marshall was disqualified from driving for six months and fined $600 plus court costs.
Intentional damage admitted
Andrew James Melrose, 21, pleaded guilty to intentionally damaging a radio handset belonging to a taxi on October 22.
His case was remanded to December 14 to allow for a possible arrangement for diversion which could result in the charge being withdrawn.
Police prosecutor Sergeant Stuart Whyte said $111,78 reparation was sought.
Drink driving
A 24-year-old Methven man was taking friends home when he was stopped by police on McMillan Street on October 7.
Liam Bruce Glanville blew 600mcg when breath tested.
Norcross said Glanville had been at a "public house" and was giving a friend a lift home.
O'Brien said Glanville was stopped at 12.30am.
"The infringement level is only 250mcg and you had passengers in the car. You were putting yourself and them at risk."
Glanville was disqualified from driving for six months and fined $540 plus court costs.
Interlock sentence
A Hampstead man was given an interlock sentence after police stopped him early on October 9 on the Rakaia Highway.
A blood test found Heath John Gordon, 26, had 198 milligrams of alcohol per 100ml of blood.
Gordon, who chose to represent himself, pleaded guilty and said he had one prior drink driving charge from Queen's Birthday weekend four years ago.
O'Brien said the alcohol level was "very high" and would attract an alcohol interlock sentence.
Gordon was given an interlock sentence and disqualified from driving for 28 days. After that, Gordon can apply for alcohol interlock licence and can only drive a vehicle with an alcohol interlock installed.
O'Brien said Gordon would be on an interlock licence for 12 months and could then apply for a zero alcohol licence, which would last for three years.
Gordon was also fined $600 and ordered to pay court costs and $365 for the medical analysis costs.
"Normally your fine would be over $1000 but I've discounted it somewhat because of the cost of an interlock device," the magistrate said.
Four driving charges
A Lauriston man who failed to fit an interlock device for 11 months pleaded guilty to four new driving charges.
Timothy Wayne Puckett, 26, admitted two charges of driving contrary to an interlock licence and one charge of careless driving.
Gretchen Hart, acting as an agent for Puckett's lawyer Douglas Brown, told the magistrate that Puckett had not yet had an interlock device fitted on his vehicle.
She said Puckett ran a crutching business and needed to save up money to get his work vehicle road worth first.
His vehicle was now roadworthy but had been impounded by the police.
Hart said Puckett was able to arrange a driver to collect the vehicle and have the interlock installed.
Sergeant Whyte said Puckett had 11 months and had not fitted an interlock device.
Puckett's case was adjourned to give him time to produce a booking for the installation of the interlock device.
O'Brien said Puckett's offending was extremely concerning for the public and the courts
"You need to be very clear about your bail condition to not to drive contrary to your interlock licence," she said.
Puckett will appear again on February 2 for sentencing.
Arrest warrants
An arrest warrant was issued for a woman who failed to appear in court
Nicole Chera Lee Donald, 32, had earlier admitted a charge of driving while disqualified. She was stopped by police on Nelson Street on January 18.
Her case was remanded to September 12 to give her time to obtain her licence. However, she has failed to appear in court at least twice.
Donald's lawyer Tiffany McRae said Donald had not passed her full licence and was unable to be in court due to work commitments.
O'Brien said the offending was in January and the matter had gone on too long. She issued a warrant for Donald's arrest.
A warrant to arrest was also issued for David Kaisa, 31, who failed to appear in court on a drink driving charge that was transferred from the Timaru District Court.
By Sharon Davis