Plains celebrates half century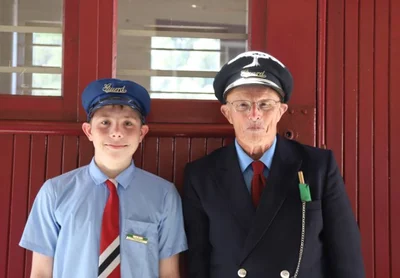 There was a lot of steam, belching engines, and ear-piercing train whistles as history was brought back to life for the 50th anniversary of The Plains Vintage Railway and Historical Museum.
Ashburton Railway and Preservation Society (ARPS) president Lorayne Oakley said Saturday's opening had a great turnout thanks to the weather.
She said she was "delighted" with the crowds and "the support from other machinery groups added to our day".
Oakley's involvement with old locomotives started when she was very young. Her dad worked for the railway and both her parents volunteered at the railway at Pleasant Point.
"I was brought up around steam trains."
The 50th weekend was opened by Mayor Neil Brown with the oldest active member of the ARPS Mike Ross, 70, cutting the celebratory cake together with the youngest member, Jack Tate, 15.
Ross has been involved with the ARPS since it was founded in 1970. He said he was really pleased to see the achievement of the society since that time.
Over the years he's made a lot of friends with similar interests and has been involved in track work, painting carriages and the rural history.
Ross has four vintage tractors - one he bought when he was only 18 or 19, which he's owned for 52 years.
When the railway ran its first train on the historic track back in 1973, Ross was a train guard. He's now training up the younger generation, including Tate.
"It's good to have younger people come on board," he said.
By Sharon Davis