A very good boy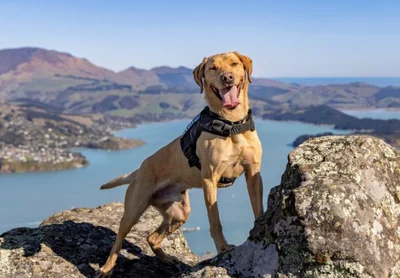 A Canterbury labrador has gone from successful police dog to calendar boy in next year's Police Dogs calendar.
A photo of Rivet and his captivating smile is the March 2024 photo in the popular fundraising calendar.
Police forensic photographer Charlotte Dyndal, who snapped the gorgeous photo, said Rivet was her favourite police dog.
'He's pretty handsome and he's got a good smile," she said.
Dyndal's photo of Rivet is one of 13 photos selected for the calendar after the judging panel sifted through more than 200 entries of police dogs submitted by forensic photographers around the country.
Her entry was also highly commended by the judges.
Dyndal is one of six forensic photographers based in Christchurch and covers anywhere from Waimate to the Hundalees.
She started as a constable and got a full-time position as a forensic photographer about four years ago.
"Combining police work with photography was a goal," the senior constable said.
The dog calendar was "good fun and different" from the sort of photography Dyndal usually does for work.
Rivet's handler Greg Donnelly said Rivet, who turns five just after Christmas, was a "high drive" dog who loved his job.
He's from the police breeding kennels and "loves finding stuff".
Rivet works across the South Island, as needed, including Mid Canterbury. He's trained to sniff out drugs, cash and firearms and can detect more than 18 specific scents.
The golden boy has netted more than $250,000 in cash in raids since July, already beating last year's tally of around $200,000. He's also found four firearms at gang addresses and "a lot of drugs", said Donnelly.
Donnelly is coming up for 40 years in the police force. He joined in 1984, worked in Christchurch for a brief period, did a three year stint in Greymouth and returned to Christchurch with the aim of joining the dog squad. He's not looked back.
"It's the best job in the world," he said.
The Police Dog Trust calendar features photos of dogs and puppies from the New Zealand's police dog Section. They cost $20 plus postage. All profit from the sales go back to the police dog trust.
By Sharon Davis