Rakaia views just waiting on loos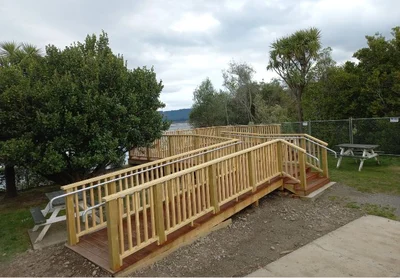 They have the views and now just need the loos.
A Matariki observation deck has been installed next to what will be a new toilet block at the Rakaia Gorge Campground, with the $450,000 project on track to be completed by the end of the year.
Council infrastructure and open spaces group manager Neil McCann said while the platform has been constructed, it is "not ready for opening as it still requires some finishing work and signoff".
"There is no public access at this stage and is still a secured work site."
The old public toilets at the Rakaia Gorge Campground, which were built in the 1970s, are being demolished and replaced with a new prefabricated dry-vault toilet block.
"The new toilets are arriving at the end of November and will be operational a couple of weeks later."
For the Matariki viewing platform, there will be interpretive signage and a Matariki narrative, which the council is working with Te Rūnanga o Arowhenua, McCann said.
There is also some lighting, deck and picnic furniture, new carparks and path, and landscaping to complete around the area.
The site is tracking towards being open to the public in December, with the details of an official opening and site blessing still to be confirmed.
The project is running under budget, McCann said, with the $451,000 project receiving $277,000 from the Government's Tourism Infrastructure Fund (TIF).
Council open spaces manager Ian Soper explained in March that round six of TIF applications last year had a directive to incorporate a focus on the Matariki public holiday, which was why the council's toilet replacement had included the star viewing deck.
By Jonathan Leask