New reporters. New editor. New Guardian.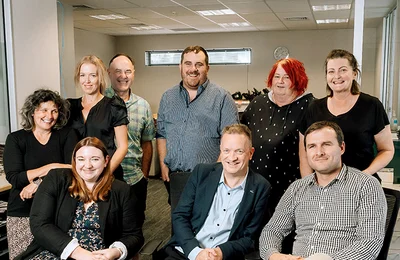 Four extra reporters, including a new editor, more content and better papers coming. Malcolm Hopwood explains the Guardian's big changes.
Ashburton Guardian's managing editor says the announcement of a new, heavily bolstered reporting team is an investment in the readers and the district.
That's how an excited Daryl Holden has described the appointment of four new reporters, including the strategic naming of a new editor.
She's Daisy Hudson, who returns to the Guardian after first working here nine years ago, and comes with big raps as one of the most promising young editorial leaders in the country.
"We're so lucky to get Daisy,'' Holden said.
"She's highly regarded nationally and everyone I've talked to about her has said she's a star in the making.
"Daisy's appointment is all part of our drive to connect even more with our community and the businesses that make our district great.''
That editorial team also now includes the former Westport News journalist Sharon Davis, who will fill a new specialist role as a rural and court reporter.
"I know from public feedback that having court news again will be welcomed by our readers,'' Holden said.
Joining Davis and Hudson is Julie Moffett, an experienced radio journalist, who was part of the Today FM newsroom in Christchurch. The other newcomer is Claire Inkson as the rural content editor, having joined the Guardian after being a freelance feature writer for the Latitude magazine, while also working in the marketing team for fertiliser giant Ravensdown.
It means that the Guardian will have a team of seven reporters, which Holden said was unparalleled for regional newsrooms and would provide readers with better and more varied content.
Importantly, Holden said it would also provide advertisers with an obvious attraction to promote their services and brands in what is undoubtedly Mid Canterbury's leading local newspaper and multimedia organisation.
"We've had that mantle since we were established in 1879, which is 144 years and counting,'' Holden said.
"This is a serious investment into Mid Canterbury to continue to be the voice of the district, to capture the stories and people that shape and define us, and to celebrate and recognise success and promote who we are and what we stand for.''
Holden said the staff investment was also part of his long-term plan to partner with and offer Mid Canterbury businesses new and varied content and marketing services.
"There's no other communication, content and marketing business in Mid Canterbury that offers the breadth of skills, know-how and experience we now have online and in print. Some may say they have, but, really, they're kidding themselves,'' Holden said.
"If businesses want their advertisements read and noticed then the best way to do that is to promote their wares alongside compelling content that keeps readers on a page longer.''
Holden said his advertising team would be pushing that message with new and existing commercial supporters in the coming weeks.
"Without good content, then good advertising can get missed.
"Advertisers should also want to associate their brand with a publication and multimedia organisation that's respected and trusted.
"Nothing helps build that reputation than quality journalism. In Ashburton, you can only go one place for that.
"That's the Ashburton Guardian.''
Your new Guardian:
What: Four new reporters, including an editor
Key announcement: Daisy Hudson has returned to the Guardian as editor to work alongside managing editor Daryl Holden
Is that big news? Sure is. She's highly regarded nationally and will make a telling difference.
What can the readers expect? More content, better content.
What does it mean to have so many new reporters? Well, We pride ourselves on being the voice of Mid Canterbury. To crank that up even more we've invested heavily in more staff than ever and at a time when most other media companies nationally are cutting staff and costs.
Should the advertisers care? Absolutely. To have advertisements online and in print noticed you need quality and trusted content displayed alongside it. The Guardian can do that. No-one else in Ashburton gets close.