More stormy weather for civic build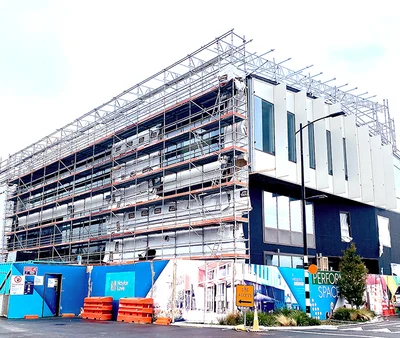 A sub-contractor going into liquidation is the latest blow to Ashburton's troubled new library and civic centre build.
Benmax NZ was put into liquidation by its Australian parent company on April 6.
Ashburton District Council chief executive Hamish Riach said the company had been sub-contracted by Naylor Love to provide, install, and commission the air conditioning and heating system in the $56.75 million project, encompassing the library, Te Pātaka o kā Tuhituhi, and civic centre, Te Waharoa a Hine Paaka.
"It is not yet clear what the sub-contractor's liquidation means for the overall build," Riach said.
"Naylor Love holds the contract for the construction, and we are working with them to assess potential impacts.
"We have had a number of conversations with a variety of parties and are still working to get a better understanding of the potential impacts."
The Project Control Group would discuss the issue at its meeting next week, he said.
Riach and the project control group will be hoping an alternative mechanical service provider can be sourced quickly so it does not impact the current delivery schedule, which is already on track to be a year overdue.
Benmax were also working on the $317m metro sports facility in Christchurch, which has also been delayed amid budget blowouts.
Just what impact the collapse of the Australian-owned mechanics company will have on the delivery and budget of the Ashburton project remains to be seen, but it comes as the latest hurdle for the project.
The project was signed off in 2019 and has since been hampered by supply chain issues and labour shortages – symptoms of the Covid pandemic.
The building was originally scheduled for completion in October 2022, but is now set to open by the end of this year.
While Benmax was being liquidated, the Ashburton council was announcing a forecast budget blowout for the library and civic centre project of up to $5.6m.
Mayor Neil Brown said the contractors were forecasting a 10 per cent budget overrun.
While the final cost would exceed the $56.75m budget, Brown said with the $20m from the Government's shovel ready project fund, it would still cost the ratepayers less than the original $51.6m budget signed off in 2019.