Court News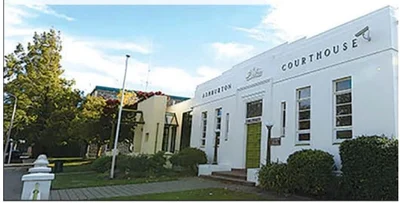 Community work and reparation
A man who has relocated to the South Island for a fresh start was sentenced to community work and ordered to pay reparation on charges from when he was living up north.
Raymond Whakahau Tamatahuta Henare, 34, appeared for sentencing on charges including theft, burglary, receiving stolen items, and shoplifting.
The court was told that Henare had fallen in with the wrong crowd and relocated to Ashburton with his wife and children for a fresh start.
Police prosecutor Sergeant Stuart Whyte said Henare had a "raft of dishonesty charges" and had re-offended recently, including while on bail.
Judge Savage had found a job, had better housing, and had reached the age "where sometimes the penny drops".
He sentenced Henare to an effective 150 hours' community work, 12 months' supervision and ordered him to pay preparation for all the items that were stolen and not recovered.
"Don't steal things," Judge Savage told Henare.
Medicinal weed
A 60-year-old woman's medicinal use of weed turned into costly mistake when she was stopped by police on Robinson Street on May 6.
Nicola Baynes admitted driving with methamphetamine and cannabis in her system.
The Tinwald woman's lawyer Paul Bradford said Baynes smoked cannabis for medical issues.
On this particular day, Baynes was with a group of people and was given a pipe with cannabis. She had no idea there was something else in the pipe, he said.
Judge Savage fined Baynes $600, plus $130 in court costs, and disqualified her from driving for 12 months.
Off the road for 14 months
A 22-year-old man will be off the road for 14 months for poor driving while his licence was suspended.
Tawhiri Matea Hemi appeared for sentencing for careless driving, sustained loss of traction and driving while suspended as well as charges of stealing a car, possessing vice grips to steal a car and intentional damage to a fence.
Hemi's lawyer Kelly Beazley said Hemi was in jail for six-and-a-half weeks before being bailed.
Judge Savage sentenced Hemi to two month's home detention and disqualified him from driving for a total of 12 months from the end of his current disqualification.
"You've got to stack them on top of each other. It will be 14 months before you can get a licence"
The judge also ordered Hemi to pay reparation for a jersey and damage to the fence and car.
Hefty reparation order
A 31-year-old woman who falsely claimed to be the driver of a car involved in an accident has been given a community detention sentence and ordered to pay reparation for the damaged car.
Allenton woman Dwana Timutimu appeared for sentencing on a charge of defeating the course of justice and two new charges - one of breaching her bail conditions and another of sustained loss of traction on Lake Hood Drive on August 13.
Her lawyer Kelly Beazley said Timutimu had accepted an earlier sentence indication of community detention given by Judge Savage in May.
Beazley said she opposed an application for reparation of $8203,90. Timutimu did eventually give police the name of the driver who would be responsible for the damage.
She said Timutimu had paid the victim $400 because she felt sorry for her.
However, the Crown prosecutor said if it had not been for Timutimu's subverting police might have been able to get reparation from the driver. They have been unable to identify the person, or find them, from the nickname provided.
Judge Savage said he saw no reason to depart from his sentence indication in May and sentenced Timutimu to two months' community detention with a 8pm-6am curfew.
However, he did order Timutimu to pay reparation.
"Charges of perverting the course of justice usually result in a jail sentence. Your deceit enable someone to get away with some shonky driving that cost someone a significant amount of money."
Timutimu was ordered to pay $7803 in reparation.
She was convicted and discharged on the breach of bail and disqualified from driving for six months on the sustained loss of traction charge.
Sentenced
Tinwald man Ethan James Titheridge, 19, was sentenced on a charge of drink driving causing injury
Two people were injured in the incident on February 16. A blood test showed that Titheridge had 119mg of alcohol per 100ml of blood.
Judge Savage said Titheridge was "driving along with a belly full of beer listening to music" and lacked experience or ability to bring the car back under control.
The judge said the sentence needed to hold Titheridge accountable and act as a deterrent to other young people.
He disqualified Titheridge from driving for six months, and gave him a four month community detention sentence and six month's supervision.
Disqualified and fined
Aiden Sime, 22, pleaded guilty to charges of theft, failing to stop for police and driving without a licence.
His lawyer Jennifer North said Sime had one prior driving charge from last year and planned to move back to Australia in February next year.
Sergeant Whyte said Sime was on an Australian provisional licence and Z in Rolleston sought $116.72 in reparation.
Judge Savage convicted and discharged Sime on the theft charge and ordered reparation to be paid.
Sime was also disqualified from driving for three months and fined $600 plus court costs.
Drink driving conviction
A flat tyre drew the attention of police and resulted in a drink driving conviction for a 20-year-old woman.
Tori May Pitama-Hughes admitted drink driving on Cass Street on July 22.
The Mitcham woman blew 514mcg in a breath test.
Her lawyer Tiffany McRae said Pitama-Hughes accepted she shouldn't have been driving and was embarrassed.
Pitama-Hughes had been out drinking with friends. She appeared to be the least intoxicated and came under peer pressure to drive to the next location.
"The car had a flat tyre which is what brought her to the attention to the police," McRae said.
Judge Savage disqualified Pitama-Hughes from driving for six months and fined her $500 plus court costs.
Remanded without plea
Connie May John, 34, faces a raft of charges including cultivating and supplying cannabis and the possession of firearms and ammunition.
The Hinds woman is jointly charged with her husband.
John's lawyer Paul Bradford asked for the case to be remanded without plea so he could be provided with more information.
Bradford said John's husband had already pleaded guilty to the charges. He asked
Judge Savage to vary John's bail condition not to associate with her co-defendant – her husband.
Sergeant Whyte said police responded to a family violence call out and found firearms on the premises that could be easily accessed by the young child.
John was remanded without plea and will appear again on October 30.
Assault conviction
Cecelia Jasmine Mako, 23, admitted two charges of assault and a charge of intentional damage.
She was convicted and remanded to allow for a restorative justice conference. Mako will appear again on Nov 13.
Drink driving admitted
Tinwald man Wiki Junior Whare, 55, admitted drink driving on Graham Street on September 1
He blew 678mcg in a breath test.
Whare's lawyer Douglas Brown said Whare had intended to drink at home, but found the bottle store closed. He had a few jugs and drove home.
"He is mortified," Brown said.
Whare will appear again on Nov 13.
Remanded for report
A man who had earlier admitted charges of supplying drugs, stealing a car, and threatening speech was given further time to engage with probation for a pre-sentence report.
Patrick Bruce Keen, 37, had pleaded guilty in July and hoped for an electronically monitored sentence. But he had not made no contact with probation to allow them to prepare a pre-sentence report.
"I could put you in prison and make you apply for a substitute," said Judge Savage.
The judge told Keen he needed to get his "head in the game and engage in the process" if he wanted an electronically monitored sentence.
Keen was remanded on bail until November 13. Judge Savage added a new bail condition for Keen to report to probation with a couple of days.
Alcohol interlock sentence
An Allenton man was given an alcohol interlock sentence after a breath test of 813mcg.
Malcom Joseph Frederick Stuart Wichman, 49, admitted drink driving on Grey Street on August 27
He was fined $800 plus court costs and disqualified from driving for 30 days, after which he can apply for an interlock licence.
Remanded for restorative justice
Damian Singh, 28, pleaded guilty to amended charges of assault and breaching a protection order after earlier denying the charges.
His case was remanded to allow for restorative justice. He will appear again on November 13.
WARRANTS
Judge Savage issued an arrest warrant for Rakaia woman who failed to appear on a drink driving charge. Jessica Rose Toa, 26, blew 777mcg in a breath test on the Rakaia Highway on September 15.
Tai Carla Winitana, 43, failed to appear on a charge of unlawfully taking a vehicle and a breach of bail. A warrant for her arrest was issued.