A match made in heaven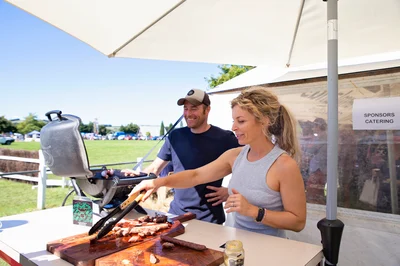 Nothing says kiwi more than eggs partnered with New Zealand beef, lamb or pork, whether in a burger or at the breakfast table.
Hurunui couple Jonna and Timo Christopherson have created a business out of this match made in heaven by expanding upon the success of their egg farm, adding a direct-to-consumer meat venture to their portfolio.
Hurunui Farms, a boxed meat delivery service, will run alongside Hurunui Omegga eggs, a free-range egg farm the couple started three years ago on their property in Hawarden, North Canterbury.
"To this day, I wonder if Timo thrives on sleepless nights and stress, as this is pretty much what the last three years have been for us,'' Jonna Christopherson said.
"When Timo started to make plans for Hurunui Farms I thought he wasn't serious, as we've just gone through all this with Hurunui Omegga, but I quickly realised he was going to do it."
Hurunui Omegga is New Zealand's first producer of omega-3-enriched eggs.
The chickens are pasture raised and fed a linseed diet, giving the eggs the extra health benefits of Omega-3.
Starting with just 200 hens and now with a flock of 4000, Hurunui Omegga has grown from a roadside stall to supplying restaurants and supermarkets throughout the South Island.
With Covid and delays in delivering a much-needed extra shed, the Omegga eggs have not been without challenges, but this hasn't deterred the German couple from launching Hurunui Farms.
"It took him almost six months to complete all the paperwork and set up the facility.
"Our budget for Hurunui Farms nearly tripled from when we sat down originally to when we launched. It suddenly became this big operation, which felt quite scary, to be honest.
"But that pressure pushed us out of our comfort zone again, and you have to make it work. And it did."
Buying from the farmers and growers is becoming an increasingly more affordable option for urban dwellers as farmers' markets and direct from farm gate to door deliveries jump in popularity.
A recent study conducted by Farmers Market New Zealand in conjunction with Eat NZ has shown that New Zealanders could save 18 per cent on their grocery bill by buying directly from farmers' markets.
A survey conducted by Our Land and Our Water NZ in conjunction with Open Farms suggests that consumers see buying directly from farmers as a more cost-effective and sustainable way of shopping.
For those farmers wanting to operate a direct-to-consumer business, marketing and logistical challenges remain as consumers still value convenience and affordability.
"You have to be constantly on your toes with advertising,'' Christopherson said.
"When you sell directly, you must approach people constantly so they know you are still there.
"That is the big difference between selling direct or through supermarkets."
Beef for Hurunui Farms is sourced from George Johns and Penny Clark Hall's Kaiwara Angus stud near Culverden. Christophersen's farm and neighbouring properties supply lamb and additional beef for the meat boxes, focusing on the farm-to-plate story that connects consumers with the product's provenance.
"Since we've been living here for the last ten years, we've met a lot of farmers and made great friends.
"We called the business Hurunui Farms, as we wanted farmers from the district to be involved."
Animals are sent to an abattoir in Ashburton before being sent back to Woodend for processing.
Meat is packaged into different boxed options and can be delivered nationwide, with consumers purchasing via the website.
"It is tough to pinpoint how many boxes we send out to consumers and restaurants each week, but numbers are going up," Christophersen said.
The Christophersens continue to look for creative ways to market their product.
"We are about to collaborate with Philippa Cameron from the Instagram account 'What's for Smoko'.
"Philippa just launched her new cookbook "winter warmers" online, which goes into the store's start of April."
Hurunui Farms will launch the 'What's for Smoko Meat box' at the same time, which will be a meat box tailored to the book for people to purchase online.
By Claire Inkson