New Black Ferns boss revealed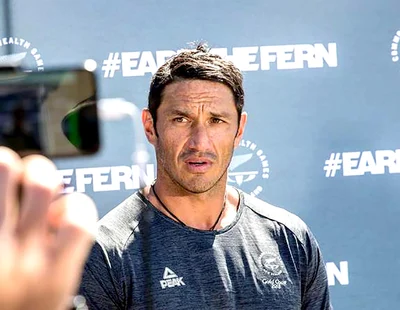 Former Black Ferns Sevens Coach and Black Ferns Manager of Culture and Leadership Allan Bunting will now take the helm as the Black Ferns Director of Rugby.
Bunting, who succeeds Wayne Smith, is no stranger to success, with his credentials being world class.
Having been involved with the Black Ferns Sevens set-up for a decade, overseeing their achievements at every international tournament during that period, leading the Chiefs Manawa to an inaugural Sky Super Rugby Aupiki title in 2022, and most recently empowering the growth of the Black Ferns, to assist in achieving their Rugby World Cup victory.
Bunting said he was grateful and honoured to be appointed as Black Ferns Director of Rugby.
"I feel very honoured and privileged to be in this position. It is such an amazing time to be involved in women's rugby.
"The opportunities are endless to develop our talent, aspire our future and grow our leaders, which is really exciting."
The continued success of the Black Ferns is top of mind for Bunting.
"As a team, it is important we keep building off the success from last year and create an environment that nurtures, supports and produces thriving people and in turn, a successful game.
"We are blessed with a massive amount of talent in this country and there is an opportunity to identify and support that talent so we can build depth.
"In turn, that will enhance the professional standards in our team and the Farah Palmer Cup and Sky Super Rugby Aupiki competitions. It's also critical to remember to keep enjoying the journey."
Bunting acknowledged the incredible contribution Wayne Smith has made to the Black Ferns legacy.
"Smithy has been instrumental to this game, but most importantly he gave women's rugby a special gift.
"Now it's our responsibility as a team, organisation and country to build on that and continue to foster our legacy."
NZR CEO Mark Robinson said Bunting's achievements both on and off the field were remarkable saying he was a 'man of incredible mana'.
"Allan has showed his calibre as a coach with the Black Ferns Sevens, in Super Rugby Aupiki with Chiefs Manawa, and most recently as Black Ferns Manager of Culture and Leadership.
"He has a proven track record on and off the field and the energy and inclusivity he brings to team environments is impressive.
"We know he is excited to continue building the team and maintaining the momentum from last year.
"We're pleased to confirm the Black Ferns will play seven Tests against quality opponents, including the Pacific Four Series and Laurie O'Reilly Cup. The details of these fixtures are in the final stages and will be announced in the coming weeks."
NZR High Performance Women's Manager Hannah Porter said Bunting's vision for the Black Ferns aligns with continuing to support the growth of women's high performance.
"We are looking forward to having Bunts lead the Black Ferns programme through to the next Rugby World Cup.
"He has long been recognised for his coaching success across the women's game, in addition to the growth he has achieved in empowering our wahine in thriving and inspiring others.
"The vision Bunts holds for this team and the support he will offer in fostering the continued development of a high-performance environment will provide a platform to ensure the current momentum for women's rugby continues."