Walnut Ave lights are all go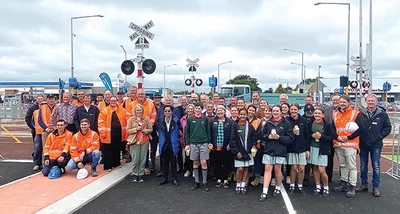 The new traffic signals at the Walnut Avenue intersections were turned on last night.
Ashburton Mayor Neil Brown said it had been a long wait, but worth if for major improvements.
"The changes made at the intersections will make a huge difference to the Ashburton community."
He said it was a complex project and thanked the community for its patience during the upgrade.
The Walnut Avenue project had two roundabouts at the intersections of West Street (SH1) and East Street with Walnut Avenue replaced with traffic lights, upgrades to the railway level crossing, and walking and biking facilities improved. 
Waka Kotahi's James Caygill said the changes to the intersections "are pretty profound".
"Along with improving safety and reducing delays, which I'm sure have been even worse during the construction period because that's the nature of the disruption with construction, these intersections will make it easier for larger vehicles," Caygill said.
It will also provide a safe pathway for children to get to school – encouraging more of them to walk, scoot or bike, he said.
Some minor landscaping works are still to be completed.
During the site blessing, Te Runanga o Arowhenua's Te Wera King took the opportunity to remind the dignitaries of the need for Ashburton's second bridge
While one project completion was being celebrated, another was breaking ground as a sod-turning marked the start of a new Fairfield Freight Hub at Fairton.
The $14 million project is a commercial development between the Wareing Group and KiwiRail which is supported by the Government contributing $2.5m through Waka Kotahi's NZ Upgrade Programme, and the Ashburton District Council.
The project will see the current freight site in the centre of Ashburton shifted north out of town to Wareing Group's new Fairfield Freight Hub before the end of 2023.
Wood said the move will reduce road congestion and enable KiwiRail to grow its freight volumes in the area from about 6000 containers a year currently to 20,000, over the next decade as well as remove the need for around 40,000 truck trips on local roads each year.