Holmes takes the helm at Methven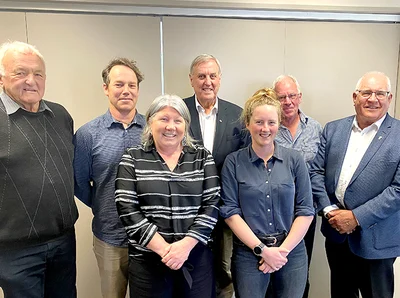 Kelvin Holmes will chair the Methven Community Board for the next three years.
The former Ashburton District councillor, from 2001 to 2010, is in his second term on the board and was the sole nominee to be chair.
"Thank you for the support and hopefully we have a good three years," Holmes said.
The deputy chair went to fellow second-term board member Richie Owen.
The meeting started with the swearing-in of Alan Lock, who could not attend last week's ceremony and then with a chair elected, the board got straight down to its business.
The board voted to approve a grant of $1178.50 to Methven Touch Rugby, which was lower than the requested $3948.
Four branded flags and the purchase of a lawn mower were not included in the grant as Holmes said the items were "not critical" to their ongoing operation.
Mount Hutt College touch team's request for $7540 was declined as it didn't fit the criteria.
An application from Methven Lions to support Methven Bike Club by taking over the maintenance at the bike skills park was partially approved.
The request was for $5164 but as there was no official memorandum of understanding between Lions and Bike Methven, the board was hesitant to approve the total amount until one was in place.
It decided to grant $2000 now while awaiting clarity on the agreement.
The board then received updates on local projects.
The update on the impending construction of an unsealed footpath on State Highway 77 to the Ōpuke Thermal Pools raised some concerns about where the path was to be positioned and the potential flood risk that will go to the council before the project starts.
"I would rather see nothing than the wrong thing," Holmes said.
They also received an update on the Methven drinking water upgrade, which is making good progress towards being completed by June next year, and a wastewater main renewal.
The board will meet again on December 12.