Toll bridge possibility discussed, dismissed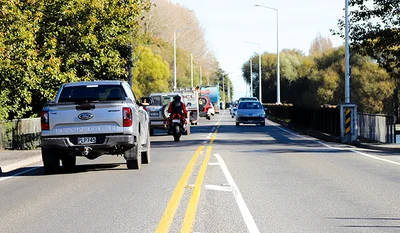 Cold water has been poured on the prospect of a toll bridge being an innovative way to fund Ashburton's long awaited second bridge.
The prospect of a toll bridge was raised as a possible option by Ashburton Mayor Neil Brown and chief executive Hamish Riach in a recent meeting with Transport Minister Michael Wood in Wellington.
But it would require a law change, something that has so far not been suggested as being under consideration.
Wood was supportive of the second bridge, but has instructed Waka Kotahi and the council to come up with ways to fund the $113.6m project, as the National Land Transport Fund will be tapped out in the wake of Cyclone Gabrielle.
Riach said the idea of a toll bridge, as an option to contribute to construction costs, had come up in the meeting with Wood, and that the power to alter the current situation rested in his office.
"If you wanted to have a toll on the second bridge to help fund it, you would need a change of legislation."
Under current legislation, a toll can only be placed on state highways, not on a local road which Wood said the second bridge is considered to be.
Waka Kotahi's funding system is also unable to raise funds for a council project.
There are currently only three toll roads in New Zealand – the Northern Gateway Toll Road north of Auckland, the Tauranga Eastern Link Toll Road and the Takitimu Drive Toll Road, both in Tauranga.
Another option, also requiring a legislative change, could be introducing the toll on the existing SH1 Ashburton/Hakatere Bridge to fund the second bridge.
A Waka Kotahi spokeswoman said under the current legislation, you can't impose a toll for something not directly getting the benefit of that toll.
Last week National announced if elected it will build a second bridge in Ashburton in its first term but stopped as far as saying how it would be funded.
Clock ticking on original
With discussions centred on when the second bridge will be built and how it's paid for, councillor Russell Ellis turned the conversation to the state of the current bridge.
"Do we wait until it's no longer usable and then we have a plan, or are we planning an upgrade to that to future-proof it," Ellis said.
Waka Kotahi's regional relationships manager James Caygill said there isn't a current plan or timeframe to replace the current bridge, which opened in 1931.
"Provided we continue to maintain the bridge…we can stretch the life of that bridge for the foreseeable future," Caygill said.
"It will eventually be replaced and we will need a second crossing of the Ashburton in place before that work takes place.
"There is a dependency on the replacement of the bridge on [the second bridge project]."
Council roading manager Mark Chamberlain said that as well as Ashburton/Hakatere bridge, there are also the Rakaia (1939) and Rangitata (1930) bridges on SH1 that "are all the same age, same design and probably having a similar life-span".
"There probably needs to be some planning in the future about those as it's the key lifeline for the South Island," Chamberlain said.