Time Government stepped up as district counts flood costs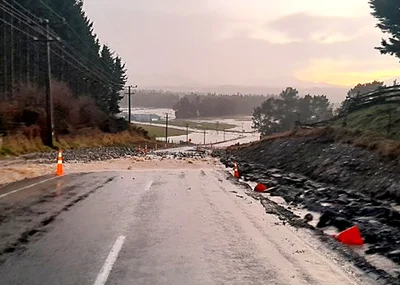 A frustrated Ashburton Mayor Neil Brown says it's time for some significant flood protection action from the Government.
There had been some "tumultuous weather" Brown said and while it was nowhere near as bad as the May 2021 event, when the Ashburton River was flowing twice as high as it was this time around, it has still left its mark in the district.
"It's not so much on farm this time, it's more probably our roads and bridge approaches," Brown said.
"The main focus is getting the roads open and repair later."
The council roading team was out assessing the condition of roads and it's understood sections of the roading network have taken another hammering, while several farms were flooded after the Ashburton River breached its banks.
It was not the Civil Defence emergency of May 2021, but it's another expensive flood clean-up, which is why Brown is pleading with the Government to step up, and step up now.
"The figure is about $150m a year which the Government would need to chuck in for the whole country to get the river catchments right, which is very cheap insurance.
"We know what needs to be done, so let's do it. It's time for action."
The issue is funding and Environment Canterbury (ECan) came out in April asking the Government to return to investing in flood mitigation.
Local ECan councillor Ian Mackenzie said that prevention is a cheaper and better use of money than recovery, so the Government investing more dollars made sense.
Brown said it was time the Government responded to that request.
In the meantime, there is a clean-up to pay for, the scale of which will become known in the coming days.
Brown said Waka Kotahi NZ Transport Agency has an emergency works subsidy for repairs which the council would likely apply for.
The council has an additional $1.7m of funding from forestry reserves to put towards roading in its annual plan, but Brown said it was unlikely it would be used for flood repairs.