Saying goodbye to the Blue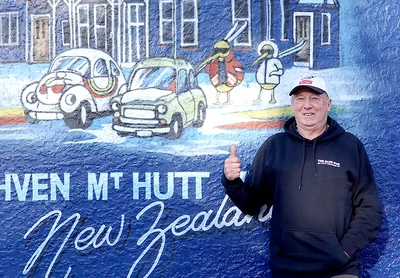 After three decades, Trev den Baars is calling last drinks.
He's been a stalwart of Methven's social scene for more than 30 years, as well as a staunch supporter of community and sports events.
However, he has decided it is time to hang up his publican's hat and take some well-earned time off.
He and wife Deb Taylor officially sold the lease for the Blue Pub on Tuesday, bringing den Baars a step closer to his dream of exploring New Zealand in a campervan.
That dream is likely to kick off from mid-September when the sale for the lease of the Brown Pub is expected to go ahead.
The land and buildings of the two pubs are likely to go on the market in due course too.
"It's the only way I will really retire," den Baars said.
After 15 years as a butcher, den Baars made his hospitality debut at VT's Nightclub in Methven, which is now the site of the Elim Church.
"I started as a glassie, but ended up doing 10 hours behind the bar on my first night.
"Within a week I was the manager."
Den Baars ran the nightclub for seven years before moving into the pub scene.
"I've always had a huge passion for the industry," he said.
He's been at the Brown Pub for 24 years and spent 21 years at the Blue, and loved every minute of it.
It took a few jibes about a trip to the cemetery being more likely than their dream trip around New Zealand from his wife for den Baars to finally decide it was time to sell.
"It's good timing for me. I always said I shouldn't be a publican past 60.
"It's time for new ideas.
"With the nightclub thrown in, I've spent 31 years in this industry."
Den Baars said he would not miss the 24/7 the industry demands.
However, as a social person who loved interacting with people he had thoroughly enjoyed his time as publican.
"It's been a lot of fun and rewarding."
The highlight of his time as a publican had been his staff and patrons – building a happy team of staff, some who had been part of the journey from the start, and others who had joined along the way, and seeing happy patrons coming and going.
Last year den Baars was honoured with a life membership of the Hospitality Canterbury Board, in recognition of at least 20 years' voluntary service on the board.
He was also given a Lion Nathan Legacy Award, becoming only one of five New Zealanders to receive the award.
The award recognises everything that goes into being a good publican
"I was blown away."
Den Baars said he was very proud of the way he was leaving the lease and the condition of the pre-1930 Blue Pub building.
Now that he has more time on his hands, his first focus will be on "getting my health right" and then planning that campervan trip.
He also plans to play a bit of casual golf, watch the odd rugby game and catch up with family and friends.
Den Baars said the new lease owner, who wanted to be known only as Brett, would keep the name Blue Pub.