Safer crossing for Methven students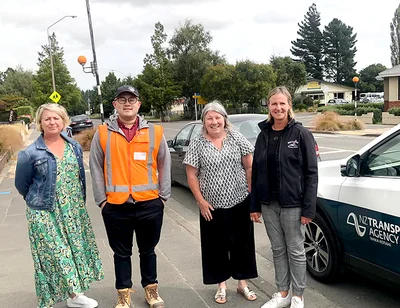 Further safety improvements are being considered in Methven, where students from three schools share one pedestrian crossing on a state highway.
Methven school principals and council representatives met recently with Waka Kotahi staff to discuss potential safety improvements at the town's only pedestrian crossing across State Highway 72.
Methven Primary, Mount Hutt College, and Our Lady of the Snows (OLS) primary schools are all accessed off SH72, which runs right through the town, but there is only one safe crossing point.
"We were just looking at options of improving safety on that particular piece of road," Methven Primary principal Sue Furndorfler said.
"It's a busy little place in the morning and after school.
"It's not just school traffic, in summer there is a lot of farm traffic and then there are buses and tourists in winter."
A major step will be Waka Kotahi proposing to introduce a 30kph variable speed limit along State Highway 72 along the stretch outside the three schools, a move Furndorfler fully supports.
Students from the three schools, with a combined roll of around 800, all utilise the pedestrian crossing point, and from it there is an almost 400m walk to the OLS entrance to the south.
Where the variable zone sits is yet to be determined.
Another potential solution is adding a kea crossing, where a school patrol controls traffic with extendable stop signs at the pedestrian crossing, but it requires a commitment of volunteers to run it before and after school.
"We haven't investigated how that would work," Furndorfler said.
"There are the three schools' students that use the crossing so it would be about the schools deciding how we would manage it in conjunction with Waka Kotahi."
Deputy mayor and Methven resident, Liz McMillan, said the meeting was held at 3pm on a school day so the Waka Kotahi representatives could witness the crossing in action.
"It was good to get them on the ground to take a look, and now we will wait and see what they come back with," McMillan, who also chairs the council's road safety committee, said.