Roading may get an extra $1m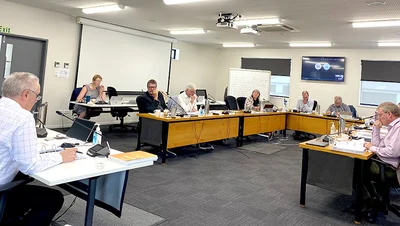 Spending an extra $1 million on roading is a possibility, but the Ashburton District Council is keeping a close eye on the rate rise for 2023-24.
The full-day budget workshop on Thursday had councillors and staff work through the budgets line-by-line for the 2023-24 year, looking to keep to the average 5.5 per cent rate rise outlined in the long-term plan (LTP).
Ashburton Mayor Neil Brown said the focus was trying to keep the rates as low as possible, while still delivering services.
Sticking to 5.5 per cent, lower than the current level of inflation, Brown said the council was "sending the signal there are no increased levels of service".
"We have even pruned some things off it."
Roading remains the biggest concern in the community, and in response, Brown proposed possibly adding $1m in additional funding.
"That could alter things, depending on how it's funded.
"It would be an increased level of service over and above and if that's what people want, we will do it."
A presentation from roading contractors HEB at Wednesday's council meeting provided an overview of the situation to the councillors ahead of the budget meeting.
HEB general manager of roading, Harry Alderson, said the ideal amount of renewals annually would be around 60km a year if funding and resources were available, but with the current funding available they are managing just under 10km.
What the council do on the roads is driven by Waka Kotahi's subsidised funding, which is
set on a three-year cycle.
An additional $1.7m, redistributed from the forestry reserves, was put into roading in the last 12 months.
Now the council is considering another $1m of unsubsidised roading in 2023-24.
Whether the community has an appetite for the additional funding for the road repairs they have beckoned for, and the additional rate increase of around 2 per cent that will come with it, would be answered through
the consultation process.
It is also the last time Three Waters will form part of the council budget planning, with the assets planned to transfer to the water entity at the end of the 2023-24 financial year.
Work on any budget errors and how an additional $1m of roading will impact the budgets will be discussed at the next budget workshop.
"We will try and get it balanced the best we can to make it all work," Brown said.
If the extra $1m for roading is included, or any other significant changes from the LTP, the 2023-24 draft annual plan will go out for public consultation in April.