Record jail sentence for former local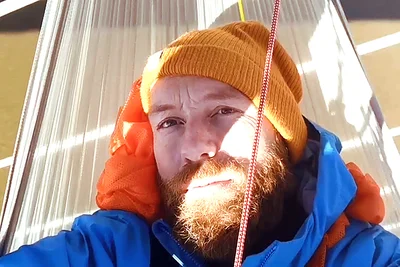 A former local has been handed what may be a record UK sentence for his part in a London climate change protest.
Civil engineer and climate change activist Morgan Trowland, 40, who grew up in rural Geraldine and Ashburton, was convicted of causing a public nuisance after a seven-day jury trial.
He was sentenced to a jail term of three years – reportedly the longest sentence for a peaceful protest in British history.
His sister has hit out at the sentence, calling it "drastic" and saying she supports her brother's activism.
Trowland and co-accused Markus Decker, 34, used rope and climbing equipment to scale the Queen Elizabeth II Bridge which spans the Thames River on October 17 last year.
Once on the bridge they unfurled a Just Stop Oil flag.
Their actions forced police to close the Dartford Crossing for 41 hours and caused havoc on the road below – one of the main arterial routes around London.
Trowland's sister, Holly Trowland, told the Guardian she was shocked at the length of the sentence for a non-violent protest.
She said the UK was clearly choosing to take "drastic action" against those who speak up against climate change over taking any on climate change itself.
"My parents instilled in us a sense of wonder at the complexity of nature. In Morgan, this became climate activism."
While she had not been in touch with Trowland since the sentencing, she said he was "holding up, so far" and referred to a blog where Trowland said his mental health had improved while in prison.
In that blog he said he "took disruptive, but non-violent direct action to make the injustice of the climate and ecological crisis impossible to ignore".
In sentencing the two men, Judge Shane Collery KC said they needed to be punished for the chaos they caused and to deter copycat action.
Trowland played the "leading role" in the protest action and knew the chaos it would cause but still chose to do it.
Hundreds of thousands of people were inconvenienced over a period of two days.
The fact Trowland was on bail for three earlier climate change protest convictions was a significant aggravating feature of his case, the judge said.
Decker had one previous protest-related conviction and was also on bail. He was given a two- year-and-seven-month sentence.
Trowland will spend a minimum of half his sentence in custody and before he is eligible to serve the remainder of his sentence in the community.
He has been in Essex prison for six months, and will spend at least another year in jail.