Rakaia residents grill council candidates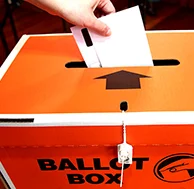 The Rakaia community wanted to know if council and mayoral candidates would turn up for them if elected.
That question was posed at the Rakaia Community Association's meet the candidates' session, where only three of the six invited candidates turned up to answer it.
"It was a little disappointing that all the candidates couldn't turn up," association chairman Neil Pluck said.
Incumbent mayor Neil Brown and councillor Lynette Lovett, and newcomer Richard Wilson attended.
Eastern Ward candidates Rob Mackle and Keith Townshend were both unable to attend for personal reasons, while mayoral candidate Jeff Swindley declined as he was holding his own "job interview sessions" in Ashburton.
Pluck was disappointed Swindley "didn't bother when it was a good opportunity for the people of Rakaia to see him and ask him the same curly questions the other candidates were asked".
Swindley was contacted for comment.
The trio that did turn up faced a grilling over some local issues and what they would do to avoid Rakaia "being the forgotten corner of the district".
Lovett and Wilson spoke of making themselves available to be advocates for their communities, the Eastern Ward, and the district as a whole.
"You won't need to worry about me forgetting about Rakaia just because I live in Hinds," Wilson said.
Lovett, seeking a third term, said she actively tries to attend community meetings to hear concerns and issues to take back to the council.
Brown said he aims to lead the council as a team with all the councillors "united and working together on one page for the prosperity of the district".
Voting closes at midday on Saturday, October 8.