Rainy rodeo still a hit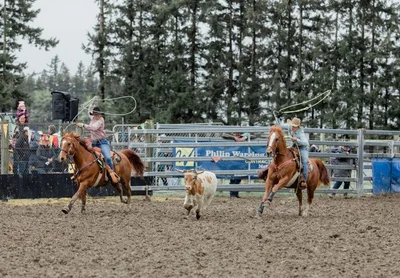 There were dirty boots, mud-splattered jean, fringed chaps and Stetson hats a plenty at the Methven rodeo on Sunday.
Ashburton rider Kate Mackle was excited to be back in the saddle for her second rodeo season.
The 24-year old said she'd been riding ever since she could walk, but started riding at rodeo competitions last Labour weekend - exactly a year ago.
Mackle, who works as a shepherd at Erewhon Station, said she was lucky to borrow Swede from Emma McCloy for her barrel race competition.
It was Mackle's first ride on Swede, with the mud making things a bit stickier.
"It wasn't out best day."
Mackle said the best thing about rodeo was how everyone supported each other.
"I'm new and have been welcomed into the rodeo family," she said.
Rodeo royalty was also in attendance.
Well-known Hawke's Bay based cowboy Merv Church took part in four events.
The 27-year-old is a regular at the Methven event and is from a family of rodeo competitors.
"My father and grandfather and my cousins have all been involved."
Church breeds quarter horses near Hastings, works as a stuntman in the film industry and in between film jobs, is a fencer.
He was eight or nine-years-old when he competed in his first rodeo and hasn't stopped.
"I also compete in Australia and Canada. There's not a lot of money in it here. Some years you'll earn nothing, other years maybe $16,000."
Church is yet to do Canada's Calgary Stampede, one of the top rodeos in the world, but it's definitely a goal.
"You have to be among the top riders and it's invitation-only."
He rates the bull ride as the most challenging discipline, with bucking horses being the hardest on the body.
He's had concussion and broken bones over the years, but doesn't seem too perturbed by that.
And was equally unperturbed by the muddy conditions in the ring.
"I don't really think about it."
Although spectator numbers were down from last year's due to the murky weather, Methven Rodeo Club Secretary Rosa Dekker said numbers are generally increasing each year.
"Going by the number of entries and the number of spectators through the gate, it seems to be gaining popularity.
"We would be one of the biggest rodeos for competitors, based on the fact it's on Labour Weekend and they can compete in two rodeos in one weekend."
She was referring to the Winchester Rodeo just down the road, the first of the summer season, which took place on Saturday.
Dekker has been involved in the sport her whole life. Her dad was on the committee for years and her brother used to ride bulls.
Meanwhile, the drizzly weather also failed to deter protestors.
About a dozen animal rights activists from the Christchurch-based Animal Save Movement mounted their protest against the rodeo.
One of the organisers, Sarah Jackson, said they stage protests at various venues such as slaughterhouses "to bear witness, anywhere animals are being exploited".
By Julie Moffett and Sharon Davis