Push for renewable energy in Mid Canterbury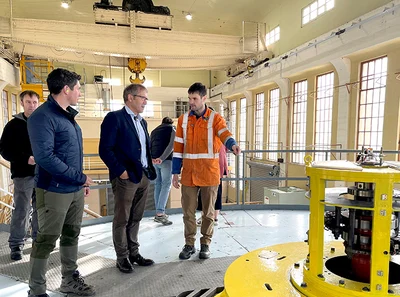 Mid Canterbury's renewable energy potential has been talked up by a visiting politician.
National Party energy and resources spokesman Stuart Smith was in Mid Canterbury yesterday to visit an emerging solar energy farm and an established hydro station in the district.
Smith said New Zealand needed to embrace diverse methods of power generation – particularly hydro, wind, solar and geothermal.
National planned to fast track consents for renewable energy projects and provide a decision within a year, if elected in October.
Smith said this would be considerably faster than the current process.
He said Mid Canterbury already had a good backbone in place to take on renewable energy.
"Electricity Ashburton had done a great job with their network," he said.
Yesterday, Smith visited a farm in Lauriston that was about to add renewable power to the farming mix.
They already have resource consent and will be able to add power to the grid from the end of next year.
Smith said the farm would still include pastures and traditional farming, but would be able to produce power in the summer months when the power demand for irrigation was high.
Wind and solar generation would be particularly suited to Mid Canterbury, he said.
Smith said that National also planned to look at Commerce Commission rules to make it easier to bring electric vehicle charges online in places where it is cost-prohibitive for lines companies.
As technology progressed there would also be plans to save more from load shifting and allow individuals to benefit from using power at off peak times.
Smith's tour yesterday included a visit to Highbank power station on the Rakaia River to learn more about its power generation and future plans.