PM Hipkins checks cyclone aftermath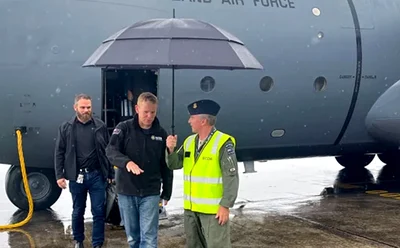 Prime Minister Chris Hipkins has arrived on the ground in Gisborne and is speaking to media after visiting residents and local officials dealing with the aftermath of Cyclone Gabrielle.
It was his first in-person look at the scale of destruction from the cyclone, before flying back to Wellington.
New Zealand is accepting offers of international assistance, he told media in a briefing on Thursday afternoon, and he expects to talk about in another update later in the day.
It could be some time before broadband was restored in the region and some of the focus at this point was getting access to Starlink in some areas and using that for hotspots, he said.
Land connection was restored in part and there was a convoy of trucks coming in each day, but they were aiming to keep usage of the roads relatively limited to keep it available and usable, he said.
Five people have been confirmed killed in the devastation of Cyclone Gabrielle. In Hawke's Bay, a child was caught in rising water in the settlement of Eskdale, a woman died in a landslide, a body was found on the shore at Bay View, and a body believed to be caught in flood waters was found in Gisborne.
The body of a volunteer firefighter who had been missing in Muriwai, near Auckland, since Monday night was recovered yesterday.