New man takes his seat at council table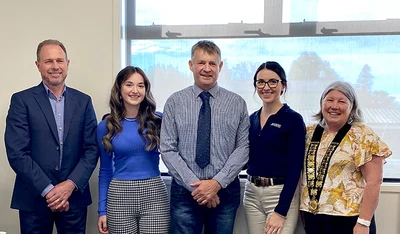 Rob Mackle hasn't wasted any time getting down to business after being sworn in as an Ashburton District councillor.
Mackle, who won the Western Ward by-election on Friday, met with Ashburton Mayor Neil Brown on Monday and then took his seat at the council table for his first meeting on Wednesday.
Mackle had daughters Liv and Sam in the public gallery as he signed his declaration to officially become a district councillor.
They said they couldn't be prouder.
As he is "a bit green", the farmer come first-time councillor said he has a fair bit to learn.
But he was thrust straight into the business of running the district on his first day.
The meeting was chaired by deputy mayor Liz McMillan in the absence of Mayor Brown.
"Welcome Rob, and it's wonderful to have a full table again," McMillan said.
There were no major decisions to make but more general business – signing off funding for the emergency roadworks following the flooding in July 2022, discussing issues with engine braking noise, approving a draft economic development strategy for public consultation, and adopting the updated alcohol control bylaw.
Mackle won the Western Ward by-election to fill the vacant seat following the death of second-term councillor Rodger Letham in December.
He will also be a member of the Methven Community Board, which next meets on June 12.