Milk payouts fall below cost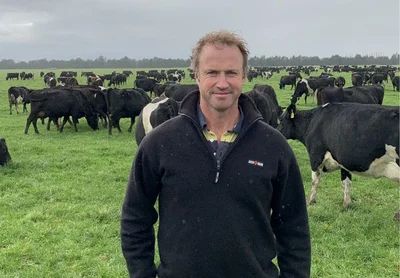 The country's leading milk processor has slashed its farm gate milk price for the coming season, which starts next month.
Fonterra has put a further squeeze on dairy farmers, cutting its forecast milk payment as demand from China remains weak.
The forecast price for the 2023/24 season has since dropped by $1/kgms and means many local dairy farmers could be operating at a loss.
Mid Canterbury Federated Farmers dairy chairperson Nick Giera said most dairy farmers in Mid Canterbury would be close to break even or making a loss for the upcoming season.
"They will need to talk to their bankers for cash flow support."
Giera said dairy farmers would likely look for ways to cut costs by buying less feed and putting off any non-essential maintenance work, which would have downstream effects for the local community.
Farmers see the low price as a short-term cycle and expect it to lift - and most local dairy farmers would be able to withstand a season's loss without trouble, he said.
The majority of dairy farmers had used strong milk prices in the last five or six years to pay off debt. However, farmers with high debt levels would be the most vulnerable, he said.
"Mid Canterbury farmers are possibly not as vulnerable as they were in the last low milk price years in 2014/15."
Fonterra's new forecast range is down 12% to $6.25 - $7.75 for a kilogram of milk solids (kgms), with a midpoint of $7/kgms. The earlier forecast was between $7.25 - $8.75/kgms, with a midpoint of $8/kgms.
Chief executive Miles Hurrell said the earlier forecast was based on an expectation that Chinese demand would improve over the medium term.
China still had surplus of fresh milk with elevated levels of local production of whole milk powder. This had reduce its milk powder import requirements. However, Hurrell was still optimistic about the outlook for dairy industry.
"The medium to long-term outlook for dairy, in particular New Zealand dairy, looks positive with milk production from key exporting regions flat compared to last year," he said.
By Sharon Davis