Mayor cautious on Three Waters shake-up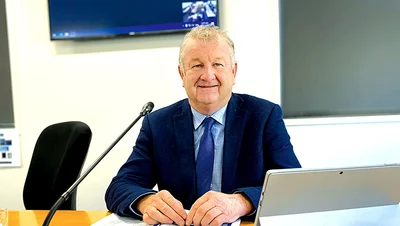 It's a case of wait and see for Ashburton Mayor Neil Brown as he works through the Government's revamped Three Waters reform and what it means for the district.
Local Government Minister Kieran McAnulty announced the changes on Thursday as the Affordable Water Reforms, which most notably increase the reform's structure from four entities to 10 and push the start date out by two years.
Brown said he was still analysing the changes and "taking a cautious approach".
The changes represent the Government listening more than before to the community concerns, Brown said.
"But have they got it right? I'm not sure and I'll let the council form a view on that.
"We have a council meeting next week where we'll have a discussion around the table and form a view whether we are supportive of the changes or not," Brown said.
McAnulty was confident his updated model will garner more support.
"I think we've nailed it," he said.
Under the new reform structure, the Ashburton District will be part of a Canterbury-West Coast entity, one of three in the South Island.
"Ten entities is certainly better than four, with a bit more local voice in there with each council getting a representative on the regional representation group," Brown said.
"I'm still concerned that the community will have less input than they do now with council."
With 13 councils in the Canterbury-West Coast entity and therefore 13 mana whenua representatives, there would be a 26-member regional representative group, which appoints a board of directors and agree the statement of intent.
Brown has reservations about how a regional representative group would operate with so many people at the table.
"It's still unclear how such a large group will be able to capture the voice of every community and operate successfully.''
The Government reset also changed the timeline.
Under the old model, the entities were set to take over on July 1 next year, but for the new model, it's been pushed out with all 10 entities to be fully operational by July 1, 2026, at the latest.
Brown said it will have an impact on council staff, who are already shouldering the transition work and are gearing up for a long-term plan (LTP) with an uncertain timeline on three waters infrastructure.
With an election later this year, and National stating it will repeal the reforms, the council is still facing the issue of preparing two versions of its LTP.
The new structure also sees an end to the 'better off funding' which was to provide $1.5 billion to councils from the new entities' debt.
The first $500m phase of the Better Off package would continue, where Ashburton received $4.19m.