Mayor Brown 'remains unconvinced'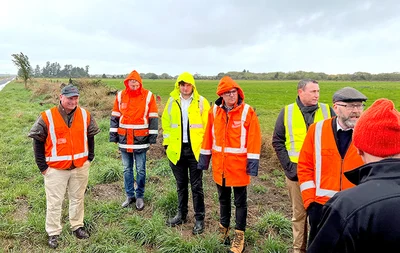 Ashburton Mayor Neil Brown didn't buy in to Waka Kotahi's response to safety concerns around the weigh station north of Rakaia.
Brown, with Waka Kotahi director regional relationships, James Caygill, and other staff at the site of the Commercial Vehicle Safety Centre (CVSC), previously called weigh stations, to discuss concerns about the project.
Also in attendance were councillors, transport industry representatives, National's Selwyn MP Nicola Grigg and Rangitata candidate James Meager, and local businesses who also shared Brown's concerns.
These centre on the safety of the southern site at North Rakaia Road which will see heavy vehicles exiting and entering State Highway 1 between the Rail Overbridge and the Rakaia River Bridge.
Caygill said that Waka Kotahi staff listened to the concerns and explained the changes that have occurred to this project in order to respond to earlier concerns.
The explanation hasn't changed Brown's mind, or the others in attendance that consider it to be an unsafe option, he said.
"I think it was unanimous in the group, that no they haven't convinced us it is a safe site," Brown said.
"They explained how it would be safe by reducing speeds and the number of vehicles that would be going in there.
"They didn't seem to think it's going to be an unsafe location."
Whether they are convinced or not, the project is going ahead regardless.
Caygill said the project is advancing as planned, with contractors setting up on site this week.
The plan is a split-site system, with the northbound site on Weavers Road, off SH1 past the rail overbridge, and the southbound site between the two bridges.
Mark Wareing, director of the Wareing Group which incorporates Philip Wareing Limited, Rural Transport and Wilson Bulk Transport, was also at the meeting and had reservations.
He said he remains concerned "at the frustration of other motorists at the trucks pulling out and being blamed for congestion across the Rakaia bridge when we have no choice".
One thing that will at least mitigate the number of heavy vehicles travelling on SH1 will be the Fairfield Freight Hub.
It was scheduled to be completed by November but it may be later due to delays with resource consents holding up construction starting, but once operational it will see an increase in containers moved on rail.
It is estimated it will cause a reduction of around 40,000 truck movements per year.