Loos and views for Rakaia Gorge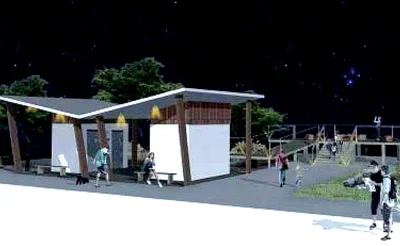 A Matariki observation deck will be installed next to a new toilet block at the Rakaia Gorge Campground.
The Ashburton District Council received funding from the government's Tourism Infrastructure Fund (TIF) for the project, but not as much as it had hoped for, forcing a reduced design scope than was planned.
The new toilet block will replace the existing public toilets at the Rakaia Gorge Campground which were built in the 1970s, and a new star observation deck constructed.
Council open spaces manager, Ian Soper, explained that round 6 of TIF funding had a directive from the minister to incorporate a focus on the Matariki public holiday, which was why the toilet replacement included the star viewing deck.
The council's TIF application had been for $554,000 and along with the council's $189,000 earmarked in the long-term plan would have provided a $743,000 budget for the project.
The application was successful but for a revised figure of $262,000 for a total of $451,000.
Soper said the revised funding amount had resulted in a more basic toilet facility being installed, and the deck size and height also being reduced.
The toilet block will be a dry vault system Soper said, "so we won't be relying on water for this facility".
The site will no longer be reliant on water supply for toilets from the Selwyn District, and will utilise dry hand-washing foams, he said.
The project is expected to be completed this year but unlikely to be completed by the Matariki public holiday on July 14.
Soper said parts of the project are pre-fabricated units and while they have slots held in the production line it is located in cyclone-hit Gisborne.
"They still hope to have us on track for later this year," he said.