Jail avoided for underage sex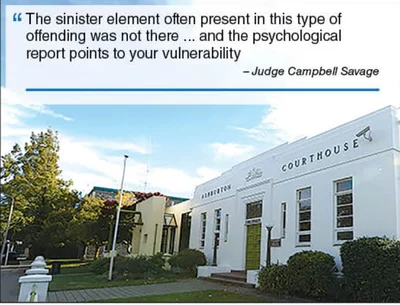 An Allenton man escaped a prison sentence for sexual grooming and sex with an underage girl.
The 22-year-old came before Judge Campbell Savage for sentencing in the Ashburton District Court on Monday.
Morgan William Smith had earlier admitted grooming a 14-year-old girl, underage sex, as well as sending an indecent photo by text message.
The relationship between the two started in November 2021, and the offending occurred over four months between December 2021 and March 2022 when Smith was 21.
Judge Savage had earlier given a sentence indication of three years and three months in prison before any discounts were taken into account.
At the time the judge said it would be a stretch to reduce the sentence enough to avoid prison.
However, Judge Savage said the pre-sentence report and psychological report had changed his view.
The judge said he was looking at the offence when he gave the sentence Indication – now he was looking at the offender.
"The sinister element often present in this type of offending was not there... and the psychological report points to your vulnerability."
Judge Savage agreed with Smith's lawyer Jeffrey McCall that the offence was likely to be a one-off and Smith did not pose a threat to society or children.
McCall said the Stop Programme would ensure Smith did not offend in this way again.
Judge Savage sentenced Smith to 11 months' home detention with a special condition to attend the Stop Programme.
Smith was not added to the sexual offender register. However, he was given a firearms prohibition order.
The police had initially requested the forfeiture of Smith's phone but agreed that was not necessary after establishing that sensitive photos could be permanently deleted.
Indecent assault
A 54-year-old Ashburton who earlier denied charges of indecently assaulting another man in Hanmer Springs in May this year appeared briefly in court.
The man was granted continued name suppression and changed his trial preference to a judge-alone trial.
He will appear again in November when a date will be set for an anticipated three-day trial.
Disqualified
A lapse in concentration while driving has landed a man with a six-month disqualification.
Shane Edward James, 55, pleaded guilty to a charge of careless driving causing injury on March 27.
James' lawyer Cory Shaw said the accident was caused by a lapse of concentration in what he described as an "unfortunate set of circumstances".
Shaw said James failed to notice the vehicles ahead of him had stopped. He pulled out into the oncoming lane to avoid hitting the stopped cars and crashed into an oncoming car.
Judge Savage disqualified James from driving for six months and ordered him to pay $750 in emotional harm to the victim.
"Keep your eyes on the road," the judge told James.
Child assault denied
A Tinwald woman pleaded not guilty to three separate charges of assault on children.
Stephanie Lynn-Louise Williams, 29, has been charged with assaulting a three-year-old and a six-year-old child between January and December last year.
Police also allege she assaulted a child aged between seven and nine between January 2019 and December 2021.
Williams denied the charges and will appear again on October 16.
Supervision sentence
A Netherby man who has been in jail since June was given a supervision sentence for addiction-driven thefts.
Shane Alex Graham, 38, appeared for sentencing on two charges of driving while forbidden and three charges of theft.
Graham took a travel cup and drink sachet worth $55.60 from Macpac in Ashburton in May, a donation box with a value of $700 from Hotel Ashburton, and a second donation box worth $100 from Harvey's Bakehouse.
Judge Savage sentenced Graham to 12 months' supervision with a special condition to attend drug and alcohol counselling.
Graham was ordered to pay $855.60 in reparation.
Remanded without plea
An Allenton man facing four charges of receiving stolen items and a further charge of entering an Allenton address with the intent to commit an offence was remanded without plea.
Jamie Graham Hartnett, 44, is alleged to have received several items reckless as to whether they were stolen. The items include a 50cc motorbike, a quad bike, a chainsaw, and tools and machinery worth $10,000.
He will appear again on September 18.
Supervision sentence
Tinwald man was sentenced to 12 months supervision for breaching a protection order and creating stress for his children and former inlaws.
Preston Gary Ruck, 34, had earlier admitted breaching a protection order on May 2 near the school one of his children attended.
Ruck's ex father-in-law read a victim impact statement that outlined the "ongoing impact" the breach had on him, his two grandchildren, and the rest of the family.
They lived in fear that Ruck "may be laying in wait for us again".
The grandfather said the family faced daily emotional stress.
Judge Savage said Ruck "clearly had some issues" he needed to work through.
"You don't want your children living in fear or being ashamed of you."
Ruck was sentenced to 12 months' supervision.
Family violence
A Hampstead man admitted a charge of family violence and a second charge of failing to appear in court.
Lionel Douglas Matiu Heka, 35, will appear again on October 16 for sentencing.
Charge admitted
A Christchurch man pleaded guilty to entering a Huntingdon address with the intent to commit an offence in February.
Vinnie Lee Chapman, 29, appeared via video link from Christchurch Men's Prison.
Chapman was remanded in custody for sentencing in Christchurch on September 20, when he is due to be sentenced on other charges.
Fine for police assault
A "highly intoxicated" Allenton man who assaulted two police officers was fined $600.
Duty lawyer Paul Bradford said Lisiate Te Are Tuakoi, 24, had a few drinks to celebrate his brother's birthday when "things went slightly awry".
Police prosecutor Sergeant Stuart Whyte said Tuakoi was "highly intoxicated".
Judge Savage told Tuakoi that he needed to "treat the police with a bit more respect than that."
He was fined $300 for each charge plus $130 in court costs.
"Do that sort of thing again you'll end up spending your weekends working for the community," the judge warned.
Remanded for sentencing
A man who earlier denied several charges stemming from a family violence incident has pleaded guilty to amended charges.
Luke Alan Tarbotton, 33, pleaded guilty to assault, threatening to injure and cultivating cannabis.
Tarbotton's lawyer Grant Fletcher said Tarbotton has spent a month in custody and several months wearing a bracelet and had started the Stopping Violence programme.
Tarbotton was remanded for sentencing on November 27
Nine charges
JuaneTamatahi Hillman, 22, pleaded guilty to nine charges including burglary, receiving stolen goods, wilful damage, dangerous driving and failing to stop for police.
He will appear again on October 2.
Remanded
Raymond Whakahau Tamatahuta Henare, 34, pleaded guilty to several charges including receiving stolen items and shoplifting, in a case that was transferred from Masterton.
He was remanded to October 2 when he is due to be sentenced on other charges.
Plea changed
Jamie Hugh McLellan, 38, changed his plea on a drink driving charge from not guilty to guilty. He will appear again on October 2.
Disqualified
George Gage Ruangihuna, 48, was disqualified from driving for 12 months on a third or subsequent charge of driving while disqualified.
Warrant issued
An arrest warrant was issued for 38-year-old Brookes Stephen Namana. He failed to appear on driving charges.