Guardian taking on NZ media's heavy hitters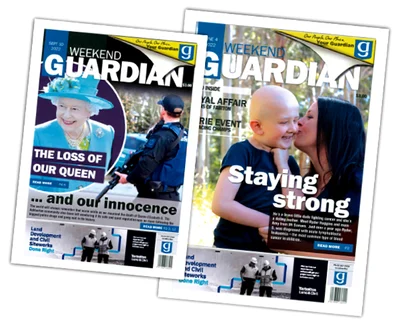 Time to dust off the glad rags, because we're going to the big dance yet again.
That's because your Ashburton Guardian has had its standing as a high-quality newspaper emphasised by being named a finalist in two categories in New Zealand's premier media awards.
The Guardian is again a finalist for the New Zealand Community Newspaper of the Year, and in a big surprise it has also made the cut in the Best Newspaper Front Page award in the annual Voyager Media Awards.
Ashburton Guardian managing editor Daryl Holden said making two finals in New Zealand's top media awards illustrated the talent they have on staff and the support they get from readers and advertisers alike.
"It just says we're one of the best newspapers in the country.''
Holden was particularly thrilled at the Guardian being a finalist in the best newspaper front page section, because it was up against some of the country's high profile media players, with the other three finalists being the New Zealand Herald, Sunday News and Sunday Star-Times.
"We don't have anything like the resources compared to the national Sundays and the metropolitans like the New Zealand Herald, The Press, the Dominion Post, the ODT, the Waikato Times etc, who should really dominate this category because of those advantages,'' Holden said.
"The fact that we have made the top four, with each finalist having to submit their top five front pages from 2022, highlights our innovation, flair, and clear talent. It's something for all of us to be proud of and it's another example of a small regional organisation upstaging the heavy hitters.''
The Guardian is one of five finalists, and the only one from the South Island, in the highly sought-after Community Newspaper of the Year category. The other community newspaper finalists are Mahurangi Matters/Local Matters, Whakatane Beacon, Devonport Flagstaff and Wairarapa Midweek.
Winners will be named at a glitzy function in Auckland on May 27 in a night that would also celebrate the 50th annual New Zealand Media Awards.