From Tinwald rugby to top cop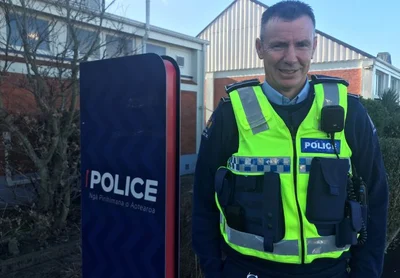 After a hard day in the shearing shed, Tony Hill looked over at the police uniforms of his Tinwald Rugby Club teammates in the changing room.
'That looks a hell of a lot easier than what I'm doing,' he thought to himself.
After more than 30 years with New Zealand Police, the newly minted Canterbury District Commander might have slightly underestimated that.
But, he points out, he still can't wait to go to work in the morning.
"Not many jobs can say that."
Hill recently took up the region's top police job after serving in the same role up in Northland.
But it was in Ashburton that the idea of a career as a police officer first took hold.
Hill attended Hampstead School before progressing to Ashburton Intermediate and then college.
He lived mostly in Dobson St, played rugby in Tinwald, and loved fishing and hunting.
Sitting upstairs at the Ashburton Police Station, he gestures out the window to a familiar building across the road - the Ashburton dental surgery that used to be his father, Harry Hill's.
"He was incredibly passionate about the community here.
"A lot of people used to say 'I went and saw your father and got this done, I couldn't afford this but we'd trade half a side of lamb' or something. He was more interested in people's welfare."
It did occasionally have its downsides, though.
"He literally knew everyone in town, so as kids we got away with nothing."
While winter was rugby season, summer was all about fishing, riding motorbikes, hunting, and spending time at the family bach at the Rangitata riverbed.
"I can't think of a better place to grow up."
He didn't grow up with a career in mind. Hoping to prompt a potential path, his mother introduced him to a friend of hers, Bruce Lamb.
Lamb, who also grew up in Ashburton, was a decorated, long serving police dog handler.
He tragically died while out on a hunting trip in the Ashburton Lakes area in May this year.
Hill ultimately decided the life of a copper might be something he was interested in, but he was told he needed a bit of life experience first.
He did some labouring jobs, worked in shearing sheds, and headed offshore to Australia for a spell.
When he came back to Aotearoa and went to police college, like all recruits he was asked to name three places he wanted to be sent for his first job.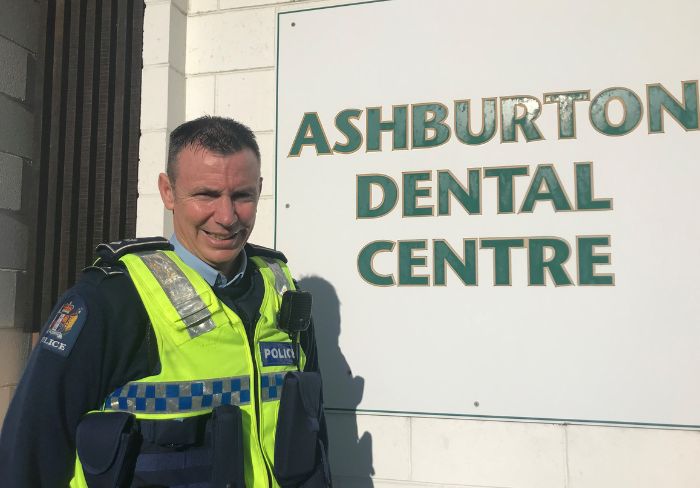 He picked Christchurch, Wellington and Auckland.
He ended up in Whangarei.
"The guy I was sitting with was from Gore, he thought it was a suburb of Auckland, so I spent quite a bit of time thinking it was a suburb only to find it was a couple of hours north."
After getting to grips with the geography, he loved living and working in Northland.
"In the smaller centres, like Ashburton, you have to have a bit of a number eight wire mentality about your policing. You have to bring a degree of pragmatism and be good at engaging with people.
"To learn a lot more depth to the role in my first start was probably a good place to start."
His early days in the uniform up north have had a big impact on the direction his career has taken.
He recalls one time working in the custody suite vividly. It was before the days of comms centres, where people would phone in incidents to the custody suite.
"A guy rung in and said his mother had passed away. Not through anything unusual, just passed away.
"I was so shocked that someone was telling me that someone was dead at this location, that I didn't even ask the location."
His sergeant managed to sort it out, but it became the first time Hill had anything to do with a deceased person.
"When you go through college they take you to a mortuary and you see a post mortem, but you're literally 20 metres away from it so you're pretty safe.
"The sergeant was intent on making sure he held me with kid gloves along the way and checked in on me."
Before long he was doing stuff that would "challenge most people", such as working on cases recovering remains of people who had died months earlier.
"If this was the Tony Hill who first arrived in Whangarei I don't think I would've coped, but my sergeant knowing this was the direction where I'd eventually end up, to start with he helped me to understand and process that.
"I suppose that's why I've always had a thing about giving back. I want our new people to get the opportunity that I got."
After working in various roles around the North Island, he ended up back in Christchurch, where he stayed for about 20 years.
He trained to become a detective, rising to detective inspector.
Throughout his career he's worked on some high profile cases, like the Ben Smart and Olivia Hope inquiry.
The one that stands out the most was leading the Hayden Miles murder investigation.
"I think Hayden's one stood out for me just because of how determined the team were to resolve that. It is a horrific case, and you felt the pain of the family.
"For three months we had no idea where Hayden was."
Gavin John Gosnell was eventually jailed for at least 18 years for the murder and dismemberment of the teenager in 2013.
Gosnell, an unemployed 28-year-old, was convicted of the murder of the 15-year-old.
He had admitted a charge of "offering indignities to a dead human body" - the dismemberment of Hayden, who was found buried in different graves at cemeteries.
It's just one example of the heavy issues police officers have to deal with.
Over his three decades with police he's developed some good coping mechanisms, particularly around fitness.
He used to do triathlons, and now in his 50s, he's taken up Crossfit.
"What I do like about it is for the one hour you're there, the only thing you can think about is what's on the board."
Building resilience and supporting staff is something he's big on, in his new role.
In 2018 he took up the district commander job in Northland, before moving to the role in Canterbury a couple of months ago.
"I still felt this debt I suppose to Canterbury because they'd given me so much to me."
Working in a bigger district was also a drawcard, as was being closer to both his family and his wife's.
He wants to show another side to the role, not just being the person you wheel out when something's gone wrong.
"Sometimes it feels like it's a bit of a blur. I'm responsible for the services delivered across the district."
That means everything from being the conduit between national headquarters and the district, to working with the regional leads for other organisations like the Ministry of Social Development and Corrections.
"We tend to, if we're not careful, have multiple cars up a driveway trying to provide services to one whanau, so we look at how connected we are as a group."
As he points out with a laugh, if he thought his days were busy as a labourer, he didn't know what he was in for.
By Daisy Hudson