From farm to fridge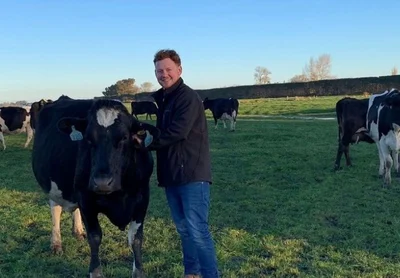 A Canterbury dairy farmer has put a modern twist on the traditional milkman deliveries, with a weekly home delivery of fresh A2 farm milk in glass bottles.
Alex Irvine has leveraged the scale of his family's dairy farms in Springston to secure a supply of creamy A2 milk and built up a pasteurising and bottling plant, along with a distribution network around Canterbury and Nelson.
Canterbury's Choice offers the dairy farm equivalent of farm to plate with fresh milk hitting the consumers' fridge straight from the farm. Their A2 milk is also supplied in the Nelson area through Milk and More..
When Irvine started developing his business in 2019 he decided to deliver A2 milk in glass bottles as a point of difference.
"It was when A2 milk started to grow in popularity because of the A2 protein education with consumers."
One of the Irvine family's four dairy farms has a 100% A2 herd and that farm supplies the milk factory operation. The rest of the milk from the farms is sold to Fonterra.
Irvine converted an old staff room into a small-batch pasteurisation factory to prove his business concept – and soon business started to boom.
The 27-year-old's plans to buy a house were put on ice as Irvine invested his savings in outfitting an old workshop into a factory and bottling plant to export standard.
He has a 2000-litre continuous pasteurising capacity and a bottle washer and bottling plant that can handle 3000 bottles an hour.
Irvine said he roped in his brothers, friends and family and put in a "lot of blood, sweat and tears".
At one point Irvine worked 44 hours non-stop and dragged his brother through 41 hours of that.
It was literally milking the cows, pasteurising and bottling the milk, washing the plant, driving to Nelson to deliver a consignment of milk – returning home, and then starting all over again.
Irvine had nothing but praise for his staff, who sometimes worked 18 to 20-hour days in the first year of the business.
"It's amazing to see where we've come from."
Irvine said the business was still growing organically as people discovered the home delivery service.
Customers were either interested in the A2 milk, the nostalgia factor of real milk with cream on top, or the environmental benefits of glass bottles.
He's recently partnered with a couple who now run the delivery side of the business, leaving Irvine to focus on the production side.
Irvine said the company had just won the contract to supply Canterbury University with milk.
The sustainability of his family's dairy farm helped him win the contract over Synlait.
A bioreactor on the farm removes nitrates from the water – to the point that the water in the creek entering the farm has higher nitrates than when it leaves the farm.
"It's something we're quite proud of."
Irvine said his parents had also planted more than 15,000 native plants around streams and shelter belts.
By Sharon Davis