Freight Hub on track for early 2024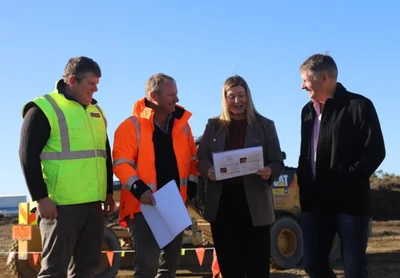 The Fairfield Freight Hub will, all going to plan, be operational in April.
The $18m project had been scheduled to start groundworks in February but delays in processing the resource consents pushed back the timeline.
Groundworks finally began in June, and it has been steady progress since.
Wareing Group director Mark Wareing held a quick site visit on Wednesday with Rangitata MP Jo Luxton, who was instrumental in getting the project going after it was initially turned down, Ashburton District Councillor Rob Mackle, and Talley's Aaron Chudleigh.
Wareing is hopeful it will be on track for an early 2024 opening.
"If things go wrong, mainly the weather and Fulton Hogan can't put the hot mix down until it warms up it will start pushing things back.
"For me, that's a disaster."
Luxton was pleased to see the progress.
"It's taking a bit of time to get to this point but really pleased that we have been able to get this happening and underway."
KiwiRail is on-site working on upgrading the existing siding and is set for a block of line work at the end of the month, where they will put the new line in, Wareing said.
If the progress falls behind by December, Wareing said they will consider staging the construction to ensure it still becomes operational in April.
"If need be we may just seal the part next to the line just to get it going but that will add cost as it means sealing it in two stages.
"If we are behind by Christmas we'll have that discussion.
"At this stage, everything is on track."
That means the historic shunting yards in central Ashburton will shift north in early 2024 to the freight hub, which is being constructed on the Talley's-owned site of the former Fairton freezing works.
Since works began Wareing has noticed an increase in traffic past the site due to "a lot of community interest in the project". He said the benefits to the community from it will be long term.
The project is a tri-party commercial development led by the Wareing Group (which wholly owns Fairfield Freight Hub Ltd) with KiwiRail and the Ashburton District Council.
The project received $2.5m from the government's NZ Upgrade fund.
The council's $2.3m contribution ended up being part of its $4.19 million in the Three Waters 'better off' funding.
By Jonathan Leask