Fireworks caused Christchurch blaze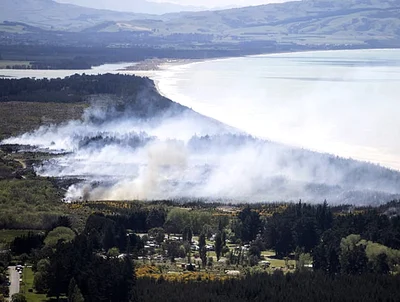 Police say the fire north of Christchurch that forced more than 100 people to evacuate overnight was caused by young people using fireworks.
Crews are still fighting the coastal fire north of Christchurch, which has so far burned through 160 hectares of dune bush and pine trees.
Police investigating the fire last night at Pegasus Bay said they spoke to two young people in relation to the incident.
One of them had been referred to Youth Aid.
Fire and Emergency said the 130 residents of a holiday park at Woodend, which was evacuated overnight, would be able to return home this evening.
Incident controller Dave Berry said the situation was safe enough for residents to return, but they should be prepared to evacuate again if conditions changed.
"We are pleased to have been able to quickly identify those allegedly involved and we hope this brings some reassurance to the community," Canterbury Rural Area Commander Inspector Peter Cooper said in a statement.
"We encourage anyone intending to light fireworks this season to ensure you do so safely.
"This includes not lighting them in windy or dry conditions, or around anything that might catch fire, such as dry grass or leaves."
Officials have issued multiple warnings of fire danger from fireworks with Guy Fawkes Day coming up on Saturday.