Farmer calls for help from all corners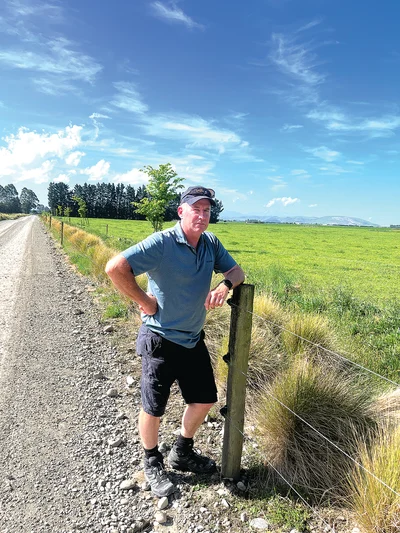 Mid Canterbury farmer Steve Schmack says changes must be made to combat climate change but not by starving the population.
The self-confessed "simple farmer" is calling for support against the Government's proposed agricultural emissions policy that he believes will only decimate the local economy in the name of climate change only to see another global player take New Zealand's place in food production without the efficiency.
"We need a rational, considered, intelligent response to reducing our emissions," Schmack said.
"He Waka Eka Noa isn't perfect, but it is a positive start and will continue to evolve into something we can all benefit from."
He is pleading with New Zealanders to speak up and have their say on legislation that will impact the whole country, not just farmers.
"Regardless of your political bias, whether you are a rural or urban dweller, townie or cockie the proposal by the Government is predicted to have a significant adverse effect on New Zealand food production and therefore your standard of living."
He Waka Eka Noa, a partnership between the Government, Māori, and major agricultural organisations set up to address the issue of greenhouse gas emissions from agriculture.
Schmack said that many farmers are not happy with a proposal to charge for gas emissions generated as a result of food production, "but doing nothing is not an option."
New Zealand only produces 0.2 per cent of the world's greenhouse gas but he said "we all need to do our bit to reduce our impact on the climate".
"Let's be real, whatever New Zealand does won't make much difference to climate change, but it will hopefully encourage other countries to follow us.
"It has been independently verified that New Zealand farmers are the most efficient producers of food in the world in terms of greenhouse gas. We have the lowest footprint."
He Waka Eka Noa proposed a system which had many of the partners making compromises, but they arrived at an agreement that addressed the issue of greenhouse gas while ensuring that there was a limited adverse impact on New Zealand food production.
The Government then made changes that Schmack said will have food prices rise and farm spending reduced by necessity.
"Everyone in New Zealand will be worse off, including the Government with a reduced tax income.
"New Zealand is a market garden for the world with 80 per cent of our exports coming from agriculture.
"Instead of saving the world with reduced greenhouse gases, we will be opening the door for other countries to step in and produce food at a higher environmental cost."
He is calling for all New Zealanders to show their support and submit on the proposal before consultation closes on Friday.