Damage stalls water upgrade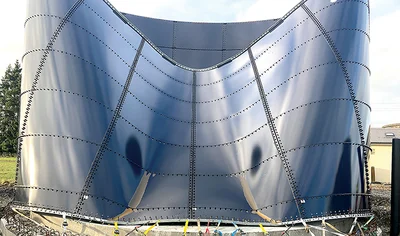 Methven's water supply upgrade has suffered an estimated two-month delay following damage caused in the recent high winds.
As the wild weather forced another precautionary boil water notice in Methven, the $9.4 million project that will see an end to the need for water tankers parking up in town had one of the two new reservoirs under construction badly damaged.
Ashburton District Council infrastructure services group manager, Neil McCann, said the damage will result in a two-month project delay, as replacement parts have to be imported from the United Kingdom.
"The other reservoir was fortunately not affected because the roof had already been installed," McCann said.
"The contractors did what they could, but with winds over 150kph on the exposed site there was little that could be done under the circumstances.  
"Water supply to Methven will not be affected as we continue to use the existing concrete reservoir."
The costs of the damage and delay are covered by the contractor's insurance McCann said.
The construction of the new reservoirs are the first stage of the upgrade of Methven's water supply, and the next stage involves the construction of a new membrane treatment plant which will provide effective treatment even during flooding events – an end to boil water notices.
"As soon as the other reservoir is completed and commissioned, it will be brought online to supplement the existing storage reservoir.
"Work on the other stage involving the membrane treatment plant will be unaffected."
When the new reservoirs, with a combined capacity of 1128 cubic metres,  are eventually completed, the old concrete reservoir will be drained to allow a comprehensive structural inspection to determine its future viability.
Construction of the membrane plant is planned to start later this year and could take nine months.