Council flooded with Three Waters submissions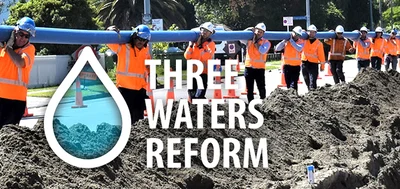 The Ashburton District Council is calling for a five-year pause to the Three Waters Reforms.
There have been estimates of there being over 70,000 submissions being received on the Water Services Entities Bill, and thousands of those will have requested to speak to the Parliamentary select committee that will hear submissions.
Council chief executive Hamish Riach and Mayor Neil Brown both signed the council's submission and have asked to speak to it.
While a huge number of submissions have been filed on the bill, what impact they garner is the big question.
"It is hard to know whether the Government will truly hear these concerns and make major changes," Riach said.
"All we can do is express our view and advocate our position through the legislative process."
Riach said the council's submission focused on expressing its and the community's concerns at the reform.
The submission reinforces its opposition to the reforms, as they are currently proposed, and suggest that the reform process should be paused for up to five years to let the new regulator, Taumata Arowai, settle in to its role.
The Gore District Council is going a step further than Ashburton by asking the Government to halt the Three Waters reform and is calling for a national referendum in its submissions.
Riach said the Ashburton council had not considered the Gore council's position or a call for a national referendum.
Brown said among council's concerns were the future costs of three waters services for ratepayers and how the new entity will follow the council's planning and land development ambitions, and ownership.
"We want to keep a level of control over water assets that we have built up and invested in wisely over the years."
The Selwyn District Council's submission also highlighted grave concerns.
As it has some of the newest infrastructure in New Zealand and have invested heavily it believes under the four entity model its communities will "subsidise many others who have chosen not to, nor had the ability to invest".
Selwyn also said the proposed council shareholding is "ownership in name only….and is present for political expedience only", while also raising concerns on the absence of clarity on debt and assets transfer.