Bridge future sealed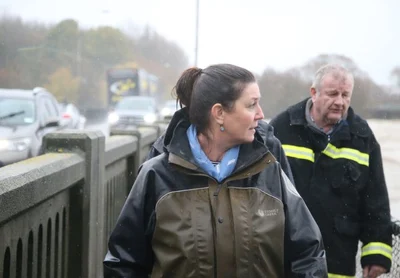 Both major political parties have now committed to building a second Ashburton bridge - but a long-time advocate for the project still isn't convinced the best location will be chosen.
Former two-term councillor Dianne Rawlinson says National and Labour have both been careful with their wording when committing to a second Ashburton/Hakatere river bridge.
Labour announced on Thursday that the second bridge is one of 14 key strategic projects in its government policy statement for land transport (GPS), which Waka Kotahi will consider as it develops its next 10-year National Land Transport Plan.
Labour has promised to fully fund the project.
Rawlinson is weary of the political commitments to build a bridge and "being nonspecific about where".
"I have the strong feeling they will take the most financially practical option rather than the best option.
"And no matter what option, I still foresee an issue with the existing bridge in the not-too-distant future."
Rawlinson has long supported a second SH1 bridge option, and was a major objector to the Chalmers Ave option.
She has conceded that if the government is paying for it, she doesn't care where it goes if it means it will finally get built.
"I still don't personally believe [Chalmers Ave] is the best option but if the funding is made available I wouldn't argue with it."
Confusion briefly reigned following the announcement on Thursday, which listed the project as the Ashburton SH1 bridge and stated improving links across the river only "could" include a second bridge.
Rangitata MP Jo Luxton cleared it up, confirming the Government was committed to fully funding a second bridge and that it will be the Chalmers Avenue option, if that is what Waka Kotahi decides.
"State Highway 1 is the South Island's main freight route. Ensuring the resilience of this route is a no-brainer.
"A new second river crossing would provide improved access."
Work could start in 2024/25 for pre-implementation and property purchase for a second bridge, Luxton said.
Construction could then start in 2026/27, taking two years to complete."
On the other side of the aisle, National has also pledged to build Ashburton's second bridge in its first term.
"Final decisions on the bridge's location and design will be determined by council and NZTA, but we will fund it, and we will build it," National's Rangitata candidate James Meager said.
Meager welcomed the cross-party support, which meant the community had certainty that it will get a second bridge.
As far as Mayor Neil Brown is concerned, Chalmers Ave is the only option.
"They are calling it a SH1 project but it will be built down Chalmers Ave. That's where the business case says and Waka Kotahi supported the business case and that site."
The big question was always how it was going to be paid for.
It now has an answer.
The funding gap is filled, which was a huge win for the district, Brown said.
"It's big for us but probably not big for New Zealand when it's a $20 billion transport plan and our $100 million is a drop in the bucket."
With the Labour and National now both confirming they will fully fund the bridge, the question is now "when can they start".
"All the work we have done on the business case so far and the land council has acquired means that construction can start as soon as next year."
Waka Kotahi will lead the project, starting with detailed design and tendering and construction starting 2026/27.
It means Ashburton should have its second bridge built before 2030.
Consultation will close on September 15 and the Ministry of Transport will use the feedback to provide advice to the Minister of Transport on the final GPS, which will come into effect on July 1, 2024.
By Jonathan Leask