Bike skills park gathers momentum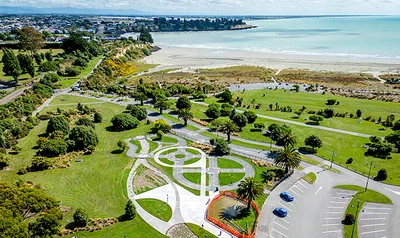 A bike skills park has plenty of backing but nowhere to go in Ashburton – yet.
The project has gathered traction and an initial meeting earlier this month showed there was plenty of support for the idea, deputy mayor Liz McMillan said.
"There is quite a lot of work to do but it's got a lot of support already which is great."
A bike skills park is for young children to learn to ride a bike in a safe environment away from footpaths and roads.
The idea for bringing one to Ashburton was raised in the walking and cycling strategy submissions in 2020 by Safer Mid Canterbury's Lesley Symington, McMillan said.
"It was discussed a bit but it has only just started to gain traction."
An initial meeting this month involved councillors, council staff, Rotary and Lions club members, and Safer Mid Canterbury.
The meeting also had representatives of the Timaru Suburban Lions who provided the group with the details of how they built a $500,000 bike skills park at Caroline Bay.
It provided plenty to think about, but the biggest initial challenge is finding a suitable site.
Several were being considered, including the Ashburton Domain, EA Networks Centre and Tinwald Domain, McMillan said.
"We'll move forward but we just have to figure out a spot for it."
Council's democracy and engagement group manager Toni Durham said there are "a few factors we are working through in terms of an open space for it to go into".
That included being accessible for communities, visible and meeting crime prevention through planning and design requirements, she said.
The next meeting will be held in July, to consider options to progress the project.
Once a suitable location is found, plans can be drawn up to start working out costs, which will determined on size, Durham said.
Like Timaru, McMillan hopes to include traffic lights in the park to further help teach young riders about road safety without having them on the roads.