Ashton Beach blindside: DOC blocks donga plans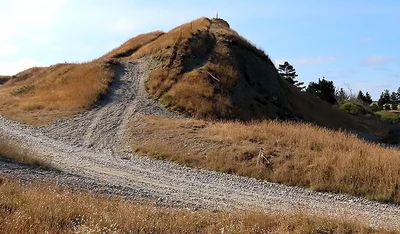 Councillors feel blindsided by a "flawed process" where the Department of Conservation denied a Wildlife Act Authority Application for the Ashton Beach enhancement project.
The plans were to construct a motorbike park on the donga (a steep-sided gully) area of an unused part of the Ashburton District Council's Ocean Farm at the beach and create a protected wildlife area around it.
DOC declined the application.
Lizard expert, Dr Mandy Tocher, independently reviewed the decision and said she "doesn't understand why it was declined".
"I was surprised, so was the DOC technical advisor, and the other herpetologist involved in the process," Tocher said.
"This was a sound plan.
"[Council] has been the victim of a flawed process."
DOC's decision outlined that the proposal didn't provide an adequate level of protection for lizards and a likely loss of lizards overall, Arowhenua didn't support it, and it was inconsistent with the purpose of the Wildlife Act 1953.
Councillors shared their disappointment at the decision, with councillor Stuart Wilson describing the report as "disgraceful reading".
Tocher stated that in her opinion, DOC staff may have failed to provide Arowhenua with accurate information and she felt the council had gone above and beyond to present a "well and truly adequate" proposal.
"Some strange information has been put in front of the decision maker, Duncan Toogood, who resigned the very next day," she said.
In response to DOC's decision, the council was presented with options to submit a revised application, appeal the decision, or accept the decision bringing an end to the project.
Instead, the council resolved to take its concerns over the handling of the application directly to the Conservation Minister, Hon Poto Williams, as well as conservation spokespersons from other parties, and Rangitata MP Jo Luxton.
They will also be seeking a sit down with DOC and Arowhenua to work through the issues that resulted in the decision to see if it is worth resurrecting the project or starting from scratch elsewhere.
To date, the project has cost $17,420  plus GST and the initial estimated total project cost was $55,000.