And that's a wrap . . .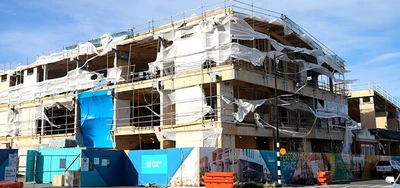 Damage to the temporary protective seal around Ashburton's $56.7 million library and civic centre project isn't expected to add further delay to the already under time-pressure project.
The protective wrap that was severely damaged in the recent wild weather is being restored and construction resumed, and Ashburton District Council chief executive, Hamish Riach, said the project remains on track for a mid-2023 completion.
The council is well aware of the pressure on the project's $56.7m budget, which includes $20m from the Government's 'shovel ready' project funding, after its delivery date had to be pushed back from the end of this year into 2023 due to supply chain issues.
The May 2021 floods had initially contributed to delays and the recent bouts of wild weather are the latest disruption.
The temporary plastic wrap didn't stand up to the ferocious 150kph winds that whipped through the district last week, but Riach said it was only a minor inconvenience.
"Immediate work has been undertaken by the contractor to get the building weather tight to allow critical activities to continue," Riach said.
"There will be ongoing work over the next week to secure non-critical elevations of the building.
"This is to provide a dry internal environment for contractors and additional protection for future works."
He said the plastic wrap has been in place as temporary weather protection until the facade is installed and while it had previously been effective it was unable to contend with the extreme gusts.
"The plastic has been deliberately cut to reduce wind resistance and prevent damage to scaffolding."
Riach said preliminary inspections of the building and scaffolding had been undertaken and remediated where required to ensure the building remains safe for access and construction activity.
"There was some damage to an onsite materials storage tent, which is set to be rectified this week, subject to shrink-wrap contractor availability."
Riach said the primary waterproof membrane layer of the roof has been installed and it was unaffected by the winds.
"Flapping material observed was temporary weather protection. This has been removed and reinstated to ensure all critical elements of the building remain protected," Riach said.