A chance for the little guys to shine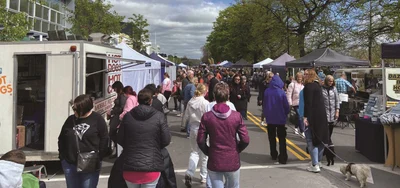 "You don't see local supermarkets engaging with the crowd and sharing the stories behind their wines," Straight Eight Estate owner James Shand said.
That's how Shand sees Ashburton's Market Day and the importance of the event,  which used to be known as Boulevard Day.
The 20-year Boulevard veteran believed Market Day was the perfect opportunity for Ashburton entrepreneurs to showcase their hard work, and that was obvious yesterday.
"It's a chance for the smaller companies to step up and show off their talent to the public," Shand said.
Ashburton's Market Day has been running for nearly half a century, hosting an array of stalls ranging from soups, fudges, crafts and more.
First-time stallholders, Sara and Keith Gilles, travelled all the way from south Dunedin hoping their recycled arts products would be snapped up.
"We are very excited to get the day started after our friend recommended giving it a go."
Starting at 5am yesterday, organiser Carol Johns said was something "here for everyone".
"It's a fun day that's created for people of all ages – kids, parents, and grandies."
She thought having it on South Canterbury Anniversary Day was a great idea. "It's the best time for people from Timaru, Geraldine and [other] southern regions to come see what Ashburton is all about.
"Not many people get a chance to get to know Ashburton.''
Being in the school holidays, and with Bookarama on too, market day attracts the crowds, she said.
"Typically we get about 8 to 10,000 people attending every year," Johns said, adding that it was a real promotional opportunity for the community.
"It's putting Ashburton on the map, with the markets drawing people from all around the South Island.
"I know a couple of people travelling up from Invercargill just for the day."
The day also lends support to local retail stores on Ashburton's main street.