4WD enthusiasts motoring to Methven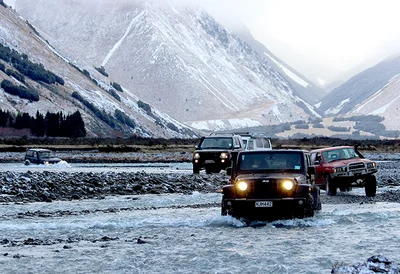 Methven is set to become a four-wheel-drive owner's paradise.
About 140 enthusiasts from around the country will descend on the town next week for the New Zealand Four Wheel Drive Association (NZFWDA)'s annual meeting.
As well as the annual meeting, the event will feature five days of off-road trips around Mid Canterbury between May 15-21.
Participants will drive to backcountry huts and return to Methven for dinner at a different restaurant each night from Monday to Friday.
This will be followed by a conference on Saturday morning, activities in the afternoon, a meal on the Saturday evening, and the association's AGM on Sunday.
NZFWDA southern zone representative John McDonald said 50 vehicles from around the country would be taking part, and a total of up to 140 people planned to attend events over the week.
Weather allowing, the weekday trips head up the Lawrence River to Hermitage Hut, up the Havelock to Mistake Flats Hut, to Reischek Hut via the Rakaia River, and the old Harper Skating Rink on the Rangitata, as well as to huts up the Avoca and Wilberforce rivers.
On the Saturday afternoon there was jet boating on the Rakaia, a visit to the aviation museum, and a trip to the popular Mid Canterbury 4x4 park off Cochranes Road in Ashburton.
McDonald said he hoped the visit would encourage other areas to create similar free tracks for off road enthusiasts.