Young Country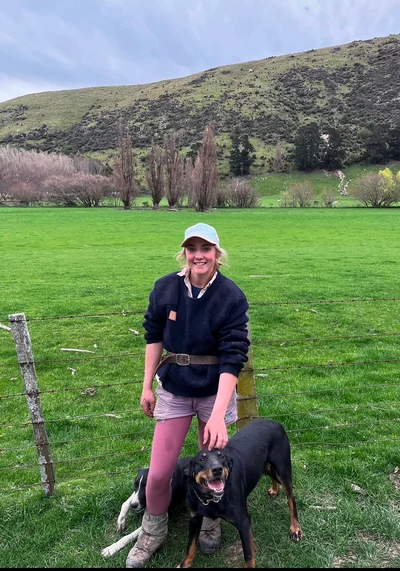 Today we talk to Shannon Bennett from the Waihora Banks Peninsula Young Farmers Club.
1. What is the name of your club, and how long have you been a member?
The name of the club is Waihora Banks Peninsula Young Farmers Club. It covers around Lake Ellesmere/ Banks Peninsula area.
I have been a part of the club since May when the club re-established itself.
2. What has been the highlight for you of joining Young Farmers? What are the benefits and experiences that you feel have helped you most?
The highlight has definitely been seeing the club being re-established in the area and gaining a lot of support from all the local young Agri-interested ones in the last 6 months.
Young Farmers clubs have such a history in this area and for it to be back up and running in the community is awesome.
Everyone involved in the club has created such awesome experiences they are a good bunch and also have a lot of social evenings planned which is great.
The area is vast and many young farmers are spread out so it's great to have a hub to meet and join up.
3. How did you become involved in agriculture?
I grew up on a sheep and Beef farm in the Marlborough Sounds which my grandparents and parents ran. Growing up you definitely didn't have many options but to help out on the farm especially in busy times when all hands on deck were required, and I'm so glad I got to taste that growing up as this really sparked my interest in the industry and I couldn't see myself doing anything else other than shepherding!
4. What is your job now?
Currently my role is a shepherd on the breeding side of the farm I work at. I have just recently started this role.
Previously I was working on the more finishing side of the farm, so I am loving having the opportunity to be more on the hills and using the dogs more mustering as this is my passion!
The farm I am based on is a 6,400ha sheep and Beef farm on Banks Peninsula. They breed 12,000 ewes and roughly 500 Angus cows.
All the lambs and calves born on farm are fattened up on the farm and sold at prime. As well as trade cattle being brought in to be fattened to prime.
So it's large scale a variety of work which is awesome.
The property ranges from steep hill country to rolling developed downs, intensive valley bottoms and flats. Being so close to the sea and volcanic soils, the ground is very fertile and grows good grass.
My journey so far has taken me to Lincoln University which I loved for the networking you make there and lifelong friends.
I then did some shepherding near Springfield and moved onto a cattle stud farm on Banks Peninsula and I am now at Willesden Farms on their hill country blocks which I am loving as they are very pro-horse work here and you can get out and about on the horses while mustering which is a fantastic learning experience.
5. What do you think the future of farming will look like, and what would like to see happening in New Zealand agriculture going forward?
Currently I feel there is a lot of uncertainty in the New Zealand farming industry especially with the current prices of lamb and milk, however I strongly feel New Zealand is so unique in what we have to offer with our pasture grazed animals that with the right people taking charge we can really utilise our premium products and stand out from the crowd.
I would love to see the producer to consumer gap be narrowed.
Currently a lot of consumers have never had any experience or knowledge of what happens on farm and many producers have little contact with the consumers of their products due to so many middle men along the supple chain.
This sadly has caused a lot of misunderstandings and tensions between producer and consumers which is leading to more red tape around farming.
I would love for more education about the importance of farming spread a
bit more to close this gap.
6. What are your future plans?
My current goals is to learn us much as possible that I can from the farm I am at currently.
I am very fortunate that all my work colleagues have such a rich knowledge of all things agricultural based and are really good role models and mentors to learn from. They best way I feel to grow in the future is to surround yourself with good mentors and to never feel you have learned it all as there is always something to learn!
I am currently dabbling in my first little lease block so my long term future goal would be to own my own farm, but we shall see!
7. Who has been your biggest inspiration in agriculture, and why?
This may sounds very cheesy but my grandparents and parents have been my biggest inspirations in agriculture, they started from scratch farming over in the UK and then in 2000 they upped and moved to New Zealand to the Marlborough sounds for more farming opportunities over here.
They built their farm up from the ground and created a beautiful successful farm up there.
It's been so inspiring watching their grit and determination to never quit and keep going even through the tough seasons and to build their lives in a different environment to what they grew up in.
As told to Claire Inkson