Normalising mental health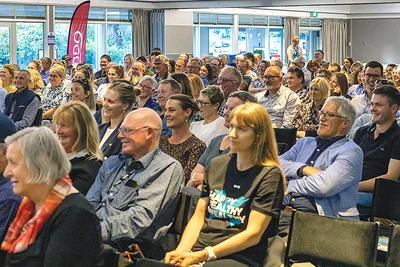 Farmers packed into the Ashburton Hotel last Thursday evening to hear TV presenter come sheep and beef farmer Matt Chisholm speak about his battle with mental health and alcohol dependence.
The event was part of a nationwide Time Out Tour hosted by the Rural Support Trust in a bid to create conversation on mental health and resilience in rural communities.
Chisholm, who was recently named the inaugural ambassador for the Rural Support Trust, told the audience that he started drinking at an early age, and began suffering from depression even though, as a former host of TVNZ's Sunday programme and Survivor New Zealand, he seemed to have the "dream life".
"I just felt hopeless and I didn't feel that competent and I want to be competent. It was a tough time," he said.
He said he hoped telling his story to people also struggling would encourage them to ask for help.
"I've told my story a number of times now, and I hear from others stories like a 21-year-old farm worker who caught up with a doctor, or that a  53-year-old bloke's gone off and had some counselling.
"And that makes me feel really good. I'd rather people find happiness than struggle away in their own head."
Chisholm grew up in South Otago and felt "a bit different" in small-town New Zealand, despite becoming captain of the 1st XV rugby team.
He started drinking at 13 and reckons he was an alcoholic by the age of 20.
At some point he picked up a brochure on depression and found that he ticked every box. But he still kept quiet about it, despite John Kirwan and Mike King speaking openly about the issue by that stage.
"I was a rugby-playing country boy, a Lincoln [University] student and there was no way I would share what I saw as a weakness," he said.
And there was the booze.
"There was no way I could just have two beers and go home. There always had to be more," Chisholm said.
He hoped the Time Out Tour would play a part in normalising mental health struggles, especially among rural communities.
"Normalising this stuff is the key thing and then helping. I mean, what are we here for really, other than to make a contribution.
"We know that rural folk don't fare well in mental health statistics," he said.
"Part of that is the type of people that we're dealing with as well – you know, tough, rural people, like those in the construction industry, hard-working people who might struggle to open up and talk about their feelings, it's perhaps not seen as a very masculine thing to do."
Alongside his television work, and being on the road with his tour, Chisholm has a 29-hectare block at Chatto Creek, near Alexandra, where he runs sheep and beef.
He said farming could be an isolating experience, and that could worsen mental distress for some people.
"A lot of people work alone, and certainly don't have those connections that people in cities will have, so that probably doesn't help.
"So, we can spend an awful lot of time talking to ourselves in our own heads, and I think that's where a lot of the problem is, for rural folk, or just for people who struggle a bit with the mental health in general, especially through tough times."
The 2022 Time Out Tour is the first of three annual tours Chisholm will front in partnership with Rural Support Trust.
Rural Support Trust Helpline: 0800 787 254