The path to rural success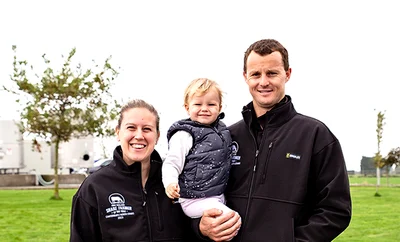 Canterbury North Otago Share Farmers of the Year Jonathan and Stacey Hoets have showcased their farming operation ahead of the New Zealand Dairy Industry Awards finals.
There was a large turnout at the field day on the property the Hoets share milk at in Hinds on Wednesday, in what was an opportunity to hear how the finalists structure their farming business, their aspirations for the future, and what set them apart from other competitors.
"The awards are a great way to get our names out there, especially as I'm interested in getting into the governance space," Jonathan said.
"It forces you to think about your goals, budgets, and the personal side of things.
"It really makes you think about if your goals align with your long-term goals or if you need to tweak them."
The Hoets are 20 per cent equity partners with John and Kelly Nicholls on the 170-ha Hinds property, milking 760 cows.
"Eventually, we would like to own a farm, and along the way, we are open to opportunities such as increasing our equity or diversifying into rental property ownership."
It is the Hoets' third time entering the awards, with the previous experience preparing them for the upcoming finals where they will be under scrutiny from a new panel of judges on May 6.
The Hoets joined the other Canterbury North Otago finalists, Jack Symes, who won dairy manager of the year, and Brayden Johnstone, the dairy trainee of the year.
Symes is a farm manager on Jack and Judy Symes 160 ha property with 630 cows in Southbridge.
"It's opened me up to new ideas for achieving my goals," Symes said. "It's exciting to put your passion into what you do every day and be able to showcase that to other people.
"The judges gave me some good feedback, which has been beneficial. I'll work on that, then just do the best I can."
The dairy industry gave him a clear pathway to reach his goal of farm ownership he said.
"The opportunities dairy presents are very rewarding compared to other industries.
"It's an industry that continues to develop going forward, so if you are into trying new systems and pushing yourself, dairy is a great way to do that."
Johnstone is a farm assistant on the Rakaia Island Turner Family 540ha, 1450 cow property just out of Oxford.
As the regional winners, the Hoets, Symes and Johnstone are all in the running for the New Zealand Dairy Industry Awards, with the winners announced at a ceremony in Auckland on May 13.