The future of agriculture is in good hands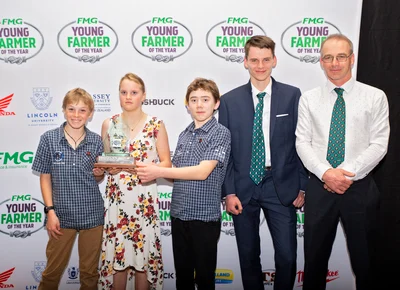 During June and July I was closely involved in the FMG Young Farmer of the Year, an event that I view as incredibly special within New Zealand Agriculture and with that goes the importance of New Zealand Young Farmers Clubs across the country.
The Contest consists of six months of District and Regional Semi-finals culminating in a National Final. Three age groups now compete, AgriKids for Primary Schools pupils, Junior Young Farmer for Secondary pupils, and the Young Farmer of the Year open to those 18-31.
What we see in these young people contesting is a passion for agriculture, a thirst for learning and rapidly increasing practical and technical skills as they progress thought the contest age groups.
Watching the AgriKids being put to task technically by Lincoln and Massey Universities, Ravensdown, MPI, and Worksafe, or being set a practical challenge by New Holland, Honda, Bushbuck or Milwaukee is quite something. The Secondary youth are put to a series of tasks, technical modules, farmlet projects, a speech and quiz session that have all the technical attributes of the adult contest. The main event sees our very best demonstrate the highest degree of technical and practical ability to be crowned Young Farmer of the Year.
As a parent of young people participating, I see the advantages as much broader than the contest itself. The opportunity to learn is the real prize. This year we attended both the Kirwee Field Days and the National Field Days. In Hamilton we spent three days going around the sites taking in the technology, methods and knowledge on display.
I was very grateful for the company representatives who took the time to engage with our boys, answer their questions and share knowledge with them. We found everyone to be very generous with time, expertise, and encouragement. I would hope they found our boys to be keen to learn.
Back home we have found so many people very quick to offer to share their knowledge and that saw us visiting High Country Stations, Dairy, Beef and Sheep Farms, and various agricultural service firms. Foothills Young Farms stepped up and ran a training day one Sunday. All of this interaction was outstanding, and we cannot measure the impact this opportunity for learning will have on these young people.
The contest is the culmination of these learnings in all the contestants from across New Zealand.
What we see in these contestants, across all three age brackets is two things in my view.
Firstly, the bright new future of agriculture as they look to embrace new ideas, ways of doing things and new awareness of roles and responsibilities of food producers, and that is something we have to look forward to.
But equally, I believe that these young people are also the public display of what is already occurring behind the farm gate, they are being exposed to the technologies we are using, the level of expertise that is required to produce nutritious, sustainable food, and they are taking part in the conversations already being had at the farming family kitchen table.
So, for what is already happening on farm and for the journey that the passion of these young people will take us on, the future of agriculture is in great hands!
As a footnote to this article, a proud Dad moment, our youngest son Charlie along with his Mt Somers Springburn teammates Georgia and Flynn, won the AgriKids and our middle lad James and his teammate Jack Foster placed third in the Junior Young Farmer competition. Our congratulations to everyone who entering, it was an outstanding display!
by David Clark