The frost and the furrows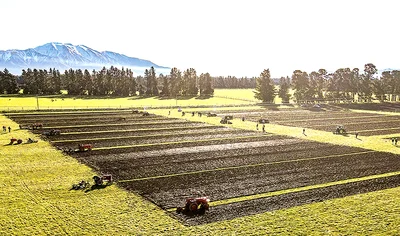 It was a "glorious day" for the Methven plough match at the weekend.
The annual event was held at Ross and Adrienne Richards' property on Darts Road, in ideal conditions.
"It was a cold and frosty start but it was an old grass paddock so it wasn't a problem, and by the time they started the frost had lifted for a glorious day," club secretary Sandy Redmond said.
The club has been holding an annual match for over 50 years.
This year had 18 competitors enter.
"It was a good number but we would always welcome more.
"Like all sports it's getting more expensive, and it's not just something you can turn up and do without being taught," she said.
The silver plough section was won by Ashley Seaton with Methven's Matt Ridge coming in second, and Warwick Seaton was third.
Local junior Olie Maw, in his first time in the section, won the contemporary ploughing section, with Keith Mansel coming in second.
Robert Weavers took out the vintage qualifying section, with Pearce Watson second and Alistair Chambers in third.
John Stalker won the vintage open ahead of David Height, and Neil Ross was third.
The Methven match followed on from the Hinds match, and this weekend it is the Mid Canterbury vintage ploughing match at the Paton's Moorcroft farm in Wakanui, which is a qualifying event for the 2024 New Zealand Championship.
Then it's the annual Rakaia ploughing match will take place on Dromore Hatfield Road on July 2 from 10.30am.