The Farming Fast Five : Ben Todhunter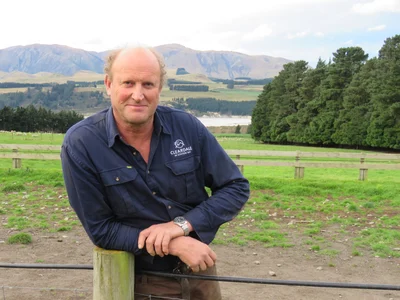 We ask a farmer five quick questions about farming, and what agriculture means to them.
Here is what Ben Todhunter from Cleardale Genetics has to say.
What did your journey into farming look like?
I grew up on Cleardale where the family has been farming for nearly 100 years. I worked on a range of farms in NZ and overseas. Studied at Lincoln University and University College Dublin and came home to help as my father needed a new hip. I always wanted to be able to work outside and use my brain as well. I was restless on the farm for a bit but now get to do that.
Tell us a little bit about your farming operation.
Cleardale is a 1700 ha Rakaia Gorge foothills breeding and finishing property with 210ha irrigated. We have  dual purpose fine wool sheep and beef cattle with SX fine wool sheep and Angus studs.
What challenges have you faced in your farming business, and how have you tackled those challenges?
Getting footrot felt like I was a bad farmer, it was like a social disease. It took a long time to learn how to manage the disease effectively and now we have turned it into an advantage through breeding and marketing the leading genetics for footrot resistance.
Droughts were a challenge too, and developing a hydro/irrigation JV with Mainpower has helped – but it took over ten years!
What has been a major highlight for you in your farming journey? (
Supporting high country farmers and leading a response to Helen Clarks assault on those farmers.
Breeding Cleardale 171230 a sheep that has been widely used and has benefit to the industry.
Having the opportunity to raise children on a farm with their grandparents close.
What advice would you have for the next generation of farmers?
Learn about yourself. What gets you excited and energised? What are your triggers? Search for and interact with people who get things done. Try things. Be present for the journey.
by Claire Inkson