Southbridge dairy manager an industry rising star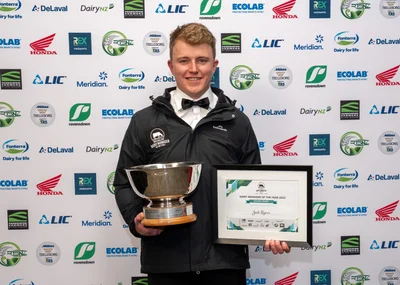 Southbridge dairy farmer Jack Symes has won Dairy Manager of the Year at the 2023 New Zealand Dairy Industry Awards.
The announcement was made at the awards gala dinner at the Cordis Hotel in Auckland on May 13.
"I'm excited about what lies ahead for myself and the opportunities it will create," Symes says.
"It's good to see all the hard work and effort I've put in over the last six month's pay off.
"It's a classic example of what you put in, you get out."
Symes grew up on the 160-hectare Southbridge dairy farm he now manages belonging to his parents, Judy and Brian Symes, who are proud of their son's achievement.
"Mum and Dad came up to the awards, and I had my Uncle there as well and a table of friends.
"It was good support; that was massive to me," Symes said.
Symes and the other finalists were treated by sponsors to a series of activities while in Auckland, including a cocktail dinner function held by Ravensdown, a chance to chat with Ravensdown chief executive Garry Diack and a cooking competition hosted by Fonterra. Meridian sponsored a mini putt game, and all finalists participated in an amazing race around Auckland's central business district with sponsors on the morning of the awards day.
"The sponsors put a lot of money into the awards process and really made it a memorable week. It was a lot of fun meeting people from all over the country, all different nationalities, ages and gender.
"You get a really good picture of how the industry is looking going forward, and it's exciting. "That was probably the best thing about being up there for the week."
Judges described Symes as an intelligent, humble and personable farmer who is focused on quality all-year round.
"Jack is the full package," says head judge Renee Rooney . "He gets the grassroots basics right, through to in-depth technical knowledge, including financial acumen."
"He's analysing all the time, is thorough with his decision-making, and does everything to a very high standard."
Symes, a first-time entrant, won the DeLaval Livestock Management Award, the Fonterra Dairy Management Award, the Ravensdown Sustainable Pasture Award, the NZDIA Personal Planning and Financial Management Award, and over $24,000 in prizes.
"Jack is a very intelligent, quiet achiever who presented a pristine property," says Judge Jack Meehan from ANZ.
"He runs a tight ship, and his financial planning reflects a commitment to future goals."
The judges noted Jack was strong across the board and demonstrated best practice in all areas of the farming operation with strengths in pasture, animals and financial management.
"He works hard and puts a lot of energy and effort into doing a good job for the business," says judge Janine Swansson from DairyNZ.
"He articulates well, and everything he says is well-considered."
The judges noted that Jack has proactive management skills, especially with regard to milk quality and were impressed with his good planning.
"The property demonstrated clean pastures, and Jack was flexible on his system depending on the conditions," said the judges. "He takes pride and care in the farm."
The judges were impressed with the overall high caliber and diversity of all Dairy Manager national finalists and that they all loved the dairy industry career pathway and progression opportunities.
by Claire Inkson