Reward for going above and beyond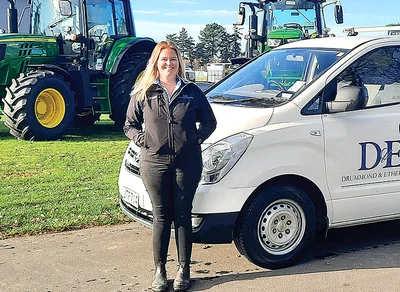 Deena Martin, from Drummond & Etheridge, Ashburton, has been named a finalist in the parts apprentice category of the New Zealand John Deere Apprentice Awards.
Martin will now compete against four Australian parts apprentices for the hotly contested title of John Deere Parts Apprentice Technician of the Year.
"Parts technicians, like Deena, play an integral role in ensuring the agriculture, forestry, and construction industries have a rapid flow of parts and equipment to their machines, which helps ensure businesses are working at peak capacity and productivity," John Deere Australia and New Zealand managing director, Luke Chandler said.
The John Deere Technician Awards were established in 2021 to recognise the hard work and expertise technicians provide across Australia and New Zealand, and their drive to support businesses to be their most efficient and productive.
In total, more than 100 nominations from across New Zealand and Australia were received for the awards, with finalists competing in six different categories, including Agriculture Service Technician of the Year, Construction & Forestry Service Technician of the Year, Turf Service Technician of the Year, Service Apprentice of the Year, Parts Technician of the Year and Parts Apprentice of the Year.
The award winners will be announced at a gala event planned for August 5 in Brisbane, Queensland.
Deena Martin commenced her apprenticeship in 2019, following a long stint working on dairy farms within the Mid Canterbury and Central Hawkes Bay regions.
"I chose this career path as I truly love agriculture," Martin said.
"As a parts technician, I am supporting farmers every day as I know a fast supply of parts and equipment is crucial to their operations.
"The farming industry is constantly evolving with new technology, and I feel incredibly lucky to be part of this growth as the industry begins to rely on innovative machinery more and more."
Martin has earnt a reputation for going above and beyond for farmers, which recently consisted of her driving more than 200km with a fully loaded trailer to urgently drop off parts, saving the customer the two days of standard freighting time.
"Working with farmers is one of the best parts of my job, and I find it so rewarding to get a great result for them," Martin said.