Local high country shepherd represents New Zealand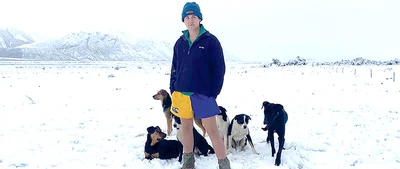 High country shepherd Taylor Bird is the only Kiwi in a field of nine Australians to compete in the finals of the Cobber Challenge Relay dog trials to be held in Queensland, Australia.
The 19-year-old's Team Hakatere Station is made up of four dogs – two huntaways and two heading dogs.
"At Hakatere Station we run 12,000 ewes, 800 cattle, and an angus bull stud up in the mountains near Mt Somers. I've been working here for a year with five staff," Bird said.
"At my last job, I started the team. These are my four running dogs. I have another four young dogs that are doing a bit of work. All my dogs come to work with me every day; they're basically with me 24/7.
"The huntaways are the noise makers, and as their name suggests, they push stock away; whereas the heading dogs, they bring the stock to you."
His dogs are called Moss, Tom, Kate, and Bruno.
No matter where you run Moss, you have full confidence that he'll bring the stock to you, Bird said.
"Tom has always had a passion for work.
"There is nothing else he wants to be doing; he'll fall over before he stops working.
"Kate is a yard dog plus she does some paddock work. The heavy hitter on the team, she has a lot of punch and can move anything.
"Bruno can go anywhere and do anything. He's a real natural who was easy to train.
"He's my main mustering dog, and the one that gets me out of sticky situations most of the time."
In previous years, the Cobber Challenge has showcased the efforts of individual working dogs, but this year's challenge celebrates the teamwork that goes into running a farm.
The new relay format recognises that farmers often work dogs in teams, or pick certain dogs to do different tasks, like mustering mobs of cattle or pushing sheep through yards.
Farmers have nominated teams of two, three, or four dogs.
Each day of the three-week competition, the farmer will select one of their nominated dogs to wear a GPS collar, to track how far, fast, and how long they work.
The results will be combined to crown the winning team.
Their data is uploaded daily to the Cobber Challenge website so fans can follow along with their favourite working dog teams.